TIPS ON CHOOSING A DUTCH OVEN
Cast iron Dutch ovens are becoming more and more popular amongst cooks. Their simmering action makes them perfect for preparing a variety of simple, authentic, and family recipes. At Sitram, we offer a wide selection of cast iron Dutch ovens to accommodate the needs and preferences of all consumers.
Material, size, color, shape...how do you pick the right Dutch oven? Why choose a cast iron Dutch oven? And how do you care for your cookware to make it last as long as possible?
1
Choosing the shape
Sitram offers a variety of different Dutch ovens to meet all your cooking needs:
Oval Dutch ovens: the most traditional and versatile of all the Dutch ovens. With this shape, you can cook large pieces of meat, roasts, whole chickens and fish, and all types of stews;
Round Dutch ovens: this original shape is ideal for cooking traditional simmered dishes (blanquette of veal, Navarin of lamb, beef bourguignon, etc.);
Square (and rectangular) Dutch ovens: made with a contemporary design, these Dutch ovens add a touch of unique and modern flair to your kitchen.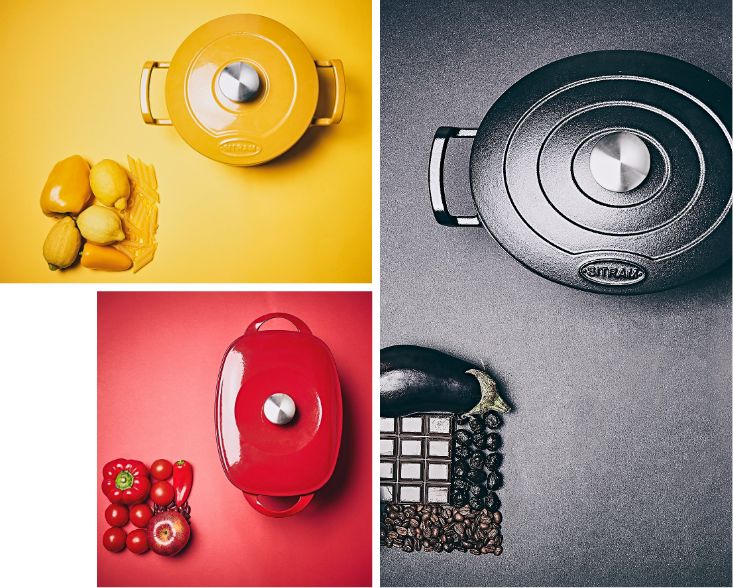 2
Which size?

When choosing a Dutch oven, consider how many people you cook for in your household. The size of your cookware should correspond to the number of people you cook for on a daily basis. For example, you wouldn't use the same Dutch oven for 2 people as you would for 6, 10, or 12! If you regularly have people over for dinner, then choose a bigger Dutch oven.
The following table will help you choose the right size:
| | |
| --- | --- |
| Volume (in liters) | Suitable for |
| 1.2 L | 1 person |
| 1.5 L | 1 to 2 people |
| 2.5 L | 2 to 3 people |
| 4 L | 4 to 6 people |
| 5 L | 5 to 6 people |
| 9 L | 8 to 10 people |
If you're cooking for 4 people, then a 4 or 4.5 L Dutch oven will be perfect. If you love to cook with Dutch ovens, then feel free to pick up a smaller model for everyday meals and a larger model for when you're entertaining guests!
Good to know: before investing in a Dutch oven, make sure it is compatible with your cooktop.
3
Is the Dutch oven compatible with your cooktop?
At Sitram, we only offer cast iron Dutch ovens. This cookware can be used on all types of cooktops (electric, vitroceramic, induction, or gas).
However, Dutch ovens must be heated gradually. If you cook with an induction hob, never use its booster function. Preheat the Dutch oven for 5 minutes at 1/3 of the desired temperature before turning up the heat.
Robust and versatile, all our Dutch ovens can also be used in the oven.
If your Dutch oven is not made of cast iron, it may not be compatible with all cooktops. Before buying a Dutch oven, check the symbols on its surface or packaging.
Gas
Electric
Vitroceramic and halogen
Induction
Always check for these symbols before purchasing cookware.
Do not use in oven
Oven-safe up to 180°C
Oven-safe up to 250°C
4
Which material for your Dutch oven?
Dutch ovens come in all kinds of materials, including cast iron, ceramic, clay, and terracotta.
Cast iron Dutch ovens are the most traditional and authentic of the bunch. They provide for slow and even cooking at low temperatures and really bring out the flavors in food. Cast iron Dutch ovens can be used on all types of hobs, as well as in the oven.
Enameled cast iron Dutch ovens are extremely durable and hygienic. The enamel protects the cast iron from oxidation (and rust) and makes it easier to clean. A small amount of fatty matter (e.g., butter or oil) must be added to prevent food from sticking.
Sitram offers a large selection of enameled cast iron Dutch ovens. These versatile items can be used for many different types of cooking, including frying, simmering, roasting, and braising. They are oven-safe and can even be used to bake bread!
5
Which color?

Dutch ovens are not only practical, but they're also beautiful. In addition to simmering delicious meals, they can also be used as a presentation dish in the middle of a table. It is therefore important that you choose a Dutch oven that matches your style and that of your kitchen.
SITRAM Dutch ovens come in several different colors with a matte or glossy finish:
Traditional colors: black, dark red, and flame orange. These timeless Dutch ovens are inspired by the classic Dutch ovens of our grandmothers;
More original colors: clay beige, mustard yellow, and sage green. These modern Dutch ovens add a splash of bright and sunny color to your table.
The insides come in:
White (eggshell): this color makes it easy to check your food while it is cooking.
Black: this color is ideal for concealing stains.
6
Which lid and handles?
Cast iron Dutch ovens are quite heavy. Their handles are therefore of the utmost importance. SITRAM offers a line of Dutch ovens with wide and ergonomic handles (Sitrabella line). In addition to making the Dutch oven easier to maneuver, these handles are also designed to hold wooden spoons so you don't have to worry about making a mess on your countertop.
Dutch oven lids must be sealed completely to prevent steam from escaping. The lids of our Sitrabella and Prisme lines are made with ridges which allow for self-basting and even stronger flavors. Built into the inside of the lid, these ridges enable drops of evaporated cooking liquid to fall evenly over the entire preparation, providing for optimal basting.
Dutch oven lids are made of cast iron, stainless steel, or heat-resistant plastic. Sitram cast iron Dutch ovens come with stainless steel knobs which are perfectly resistant to high temperatures (and thus handy when using your Dutch oven in the oven).
7
How do you extend the lifespan of your cast iron Dutch oven?
Sitram cast iron Dutch ovens last for a lifetime, and can even be passed down to future generations. So what's the best way to clean and care for this precious cookware?
Cast iron Dutch ovens can be cleaned with:
A soft sponge or cloth or some paper towel;
Natural products:

Regular dish soap and water;
Salt: Pour a little in your Dutch oven and scrub with a cloth or some paper towel - the salt will break up food residues and absorb grease;
Baking soda: For stubborn stains, pour a spoonful of baking soda into your Dutch oven and add some hot water. Soak overnight then rinse;
Lemon: Rub the inside of your cast iron Dutch oven with half a lemon to remove excess grease. Then rinse thoroughly and dry.
If rust appears on the edges of your cast iron Dutch oven, you can use a steel wool pad (rub gently) to remove it. You can also use extra fine sandpaper, aquarium sand, or newspaper soaked in vinegar and sprinkled with coarse salt. Finish by wiping with paper towel and some neutral oil.
You can also extend the lifespan of your Dutch oven by taking a few simple precautions.
General precautions for your Dutch oven
1. Never use metal utensils to stir or cut food in your Dutch oven; wooden utensils are best.
2. Refrain from washing your cast iron Dutch oven in the dishwasher; instead, wash it by hand.
3. Never use bleach or other aggressive products. See our tips for removing stubborn stains.
4. Dry your Dutch oven with a cloth before storing it in a cupboard.
See our Use and Care Guide for more information on caring for your Dutch oven.
You'll find all our Dutch ovens in most retail shops, as well as general or specialized stores on the Internet!