SITRAM, a responsible brand
SITRAM is a French heritage brand that strives to combine economic development with environmental and social responsibility. It is our firm belief that cooking (our area of expertise) is an outstanding tool for improving the daily life of consumers, as well as a means of raising awareness regarding consumer behavior that we wish to help change.
The CSR approach behind the brand
SITRAM is a subsidiary of Gers Equipement, a company with strong human values and roots in the southwest of France. The company has set up an ambitious CSR policy based on the following principles:
Developing our lines with recyclable materials.
Choosing certified products and materials (FSC, PEFC, Oeko-Tex, etc.) that meet strict specifications and respect environmental and public health issues.
Shipping by rail whenever possible and avoiding new maritime routes in the Arctic Ocean.
Continually improving the durability of our products.
Recycling our products and materials (e.g., aluminum).

Gers Equipement is now FSC-certified, and we're starting the process of certifying the percentage of recycled materials in our products. Our voluntary CSR approach, which was previously based on AMFORI and its "BSCI" (Business Social Compliance Initiative) and "BEPI" (Business Environmental Performance Initiative) evaluations, will now be based on these 2 new certifications to better meet the needs of our customers.
United and committed
Our company and its employees are committed to making the world a better place, whether by participating in the "Fondation d'Entreprises Engagés Solidaires" ("Foundation of United and Committed Companies"), which carries out humanitarian projects in the most disadvantaged regions on Earth, or partnering up with charitable organizations in France such as "Restos du Cœur" ("Restaurants of the Heart").
Our goal: By 2025, 50% of our lines will be made of recycled raw materials.
Concrete actions visible today in stores
RECYTRAM project:
Launch of a line of products made of recycled aluminum (98%)
By using recycled aluminum, we reduce the extraction and transportation of raw materials required for manufacturing. Products made of recycled aluminum are just as effective as those made with non-recycled aluminum. After more than 18 months of research, development, and fine-tuning, we're proud to offer an affordable new line of more sustainable products available in basic, standard, and premium versions.
Operation Recycle:
Consumers are encouraged to return their old cookware to the store to receive a discount on a new product from the recycled line. Used utensils will also be collected and recycled.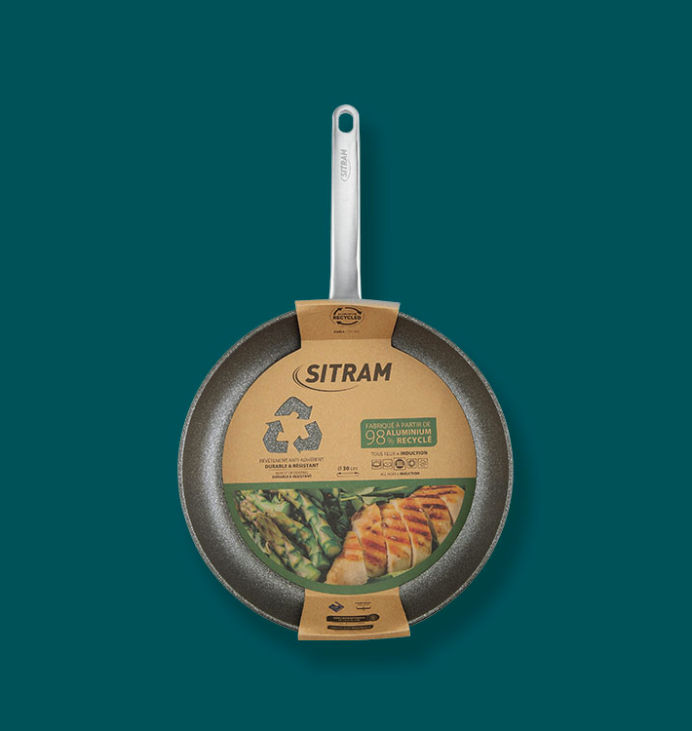 Reforest'Action project:
A partnership with a retailer and Reforest'Action, a renowned association which, for the past 10 years, has advocated for the protection of forests and financed the planting of more than 10 million trees worldwide with the help of numerous partners in the field. By purchasing a product from the recycled line, you'll allow for the replanting of a tree and thus help preserve biodiversity in France.