HOW TO CLEAN AND TAKE CARE OF YOUR COOKWARE
With the right cleaning and maintenance products, you can enjoy your cookware for many years to come. Proper maintenance ensures your pots, pans, and other cookware last for as long as possible. Sometimes, simple dishwashing liquid and water suffice.
Other times, you'll need special products to remove residues, burn marks, and grease. So how do you clean and maintain your cookware? Which products and materials are safe for your saucepans and frying pans? And how do you tackle the toughest stains?
1
Precautions for ensuring the
longevity of your cookware
Cast iron Dutch ovens, pressure cookers, couscous pots, stainless steel and aluminum saucepans and frying pans, with or without coating...There are lots of different types of cookware, and each comes with its own care instructions.
Before the first use
Before using your new cookware for the first time, always take the time to wash it. To do so, simply clean the cookware with hot water, a soft sponge, and some dishwashing liquid.
After washing, rinse and dry the cookware thoroughly. If the cookware has a coating, add a little oil to the inside. Always remove excess oil with paper towel.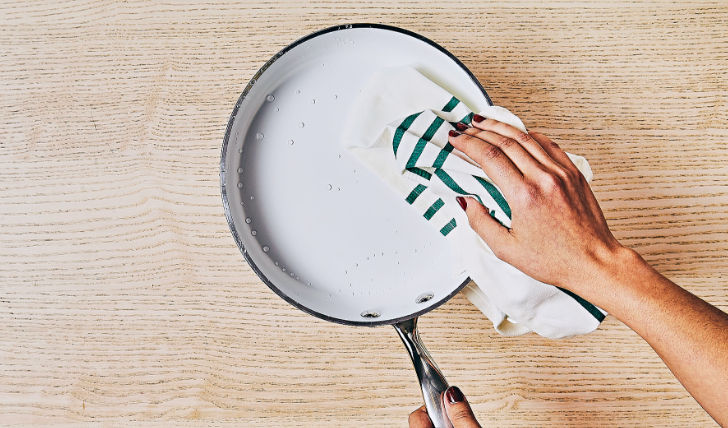 Everyday upkeep
Here are some tips and precautions to ensure your cookware lasts as long as possible:

1. Never heat while empty: This can cause the cookware to warp or severely damage its coating, rendering it unusable.
2. Never rinse hot cookware with cold water as extreme differences in temperature can also cause the cookware to warp or become damaged. Wait at least 10 minutes after removing your Dutch oven, saucepan, or frying pan from the heat before washing or rinsing it with cold water.
3. Never use a knife to cut food directly in the cookware, especially if the cookware has a non-stick coating. In general, metal utensils should not be used with cookware (except maybe stainless steel versions).
4. Most of our products are dishwasher safe. However, please note that dishwasher detergents are more aggressive than dishwashing liquids. Over time, they can give rise to difficult-to-remove deposits and stains and shorten the lifespan of your cookware. SITRAM recommends washing your cookware by hand whenever possible.
5. Never clean with abrasive sponges and scouring powders as these products can damage and scratch your cookware.
6. Avoid extremely aggressive products such as waxes, lye-based products, oven and barbecue cleaners, strong acids, and products for unclogging drains. Never use bleach. Below, we'll explain how to tackle the toughest stains on your cookware.
7. Always wipe your cookware with a cloth before storing it in your kitchen cupboards. By doing so, you'll prevent the stains caused by water drops that are left to dry on their own.
2
Materials: soft cloths (e.g., microfiber), soft and non-abrasive sponges, and in exceptional cases, an abrasive sponge or a stainless steel wool pad;
Cleaning products: dishwashing liquid, liquid household soap, salt & lemon, white vinegar, oil, baking soda, cleaning clay, and sometimes ammonia.
3
How do you clean your Dutch ovens,
saucepans, and frying pans?
The instructions above apply to all types of cookware. However, special precautions must be taken for certain production materials and coatings. Let's discover how to care for this cookware.
Cookware with non-stick coatings
Coated cookware is easier to clean. Non-stick coatings prevent food from sticking and forming residues that are difficult to remove. In most cases, this cookware can be cleaned with a soft sponge and some hot soapy water.
For more stubborn grease and residue, let the cookware soak for around 10 minutes in hot water. This will make it easier to remove the residues.
Please note: Never use a metal pad or an abrasive sponge to clean your coated cookware as these products can damage the coating.
If you stack your cookware, think of inserting a felt cloth or a sheet of paper towel between each piece. This will prevent friction and scratches and help your cookware last longer.
Stainless steel cookware
Cookware made of 100% stainless steel is perfect for cooking food in its juices. However, this type of cookware is a little harder to clean (but not unreasonably so). To remove stubborn grease stains and residue from the bottom, simply soak the cookware in hot soapy water (with dishwashing liquid) for around 10 minutes. The stains and residue then come off easily with a wooden spoon, a dish brush, or a sponge. Never use an iron wool pad on stainless steel cookware. Instead, use a stainless steel wool pad (but only if you've tried everything else). You should also avoid using overly aggressive products and abrasive sponges.
Stains sometimes appear on stainless steel cookware. Here are some products to help you remove them:
For iridescent stains caused by the starch in rice or pasta: a mixture of white vinegar and water;
For white or gray stains caused by salt crystals: a mixture of vinegar and lemon juice (you can prevent these stains by only adding salt after cooking or by boiling the water before adding the salt so it dissolves quickly);
For yellow or brown stains caused by overheating (which can appear on the inside or outside of your frying pan): a paste made of baking soda and water. Apply the paste to the stains, let sit for at least 30 minutes, then wipe with a damp cloth or sponge. Finally, rinse the cookware thoroughly.
Other cookware
Here are some tips for cleaning your aluminum, cast iron, or steel cookware:
Aluminum cookware: Try using a soft cloth with hot water and dishwashing liquid. If that doesn't work, add some lemon juice and salt to the water. A few drops of ammonia can also be used for more stubborn stains. However, never use steel wool pads and abrasive sponges;
Steel cookware: Wash in hot water and dry completely before putting away to prevent rust. You can also coat the surface with a thin layer of oil. Do not use soap or dishwashing liquid;
Cast iron cookware: wash in water without soap and let soak in lukewarm water if necessary. To remove more stubborn stains, try boiling water directly in the cookware for a few minutes. Do not clean cast iron cookware with abrasive sponges or detergents. Before putting it away, dry it off completely to prevent rust from forming on the parts without enamel.
4
Advanced cleaning tips
Among other things, discover how to clean stubborn residues and burnt bottoms.
How do you clean a burnt saucepan or
frying pan?
Who hasn't forgotten about a pan on the stove? If your cookware overheats, never remove it immediately. Turn off the cooktop, cover the cookware with a wet cloth (if necessary), and wait until it cools down completely.
To remove burnt and encrusted marks from the bottom of stainless steel cookware, fill your sink with water, add a dishwasher tablet, and let the cookware soak for one hour. The stains should then come off with a soft sponge. For certain stains (e.g., iridescent stains), you can also use a gently abrasive product (such as a soft scouring cream or clay) with some oil and vinegar or lemon juice.
To remove burn marks and stains from your enameled cast iron Dutch oven, pour some highly diluted bleach inside and let soak for a few hours before rinsing.
Finally, you can clean the base of a saucepan or frying pan by scrubbing vigorously with a stainless steel wool pad. This technique is extremely effective and will not damage the base of your cookware.
Regardless of the method, be sure to thoroughly rinse your cookware with water before using it again.
Can I use organic products to clean my cookware?
Certain organic products are also effective at removing stubborn stains from cookware. Here are some tips for cleaning a burnt saucepan or frying pan: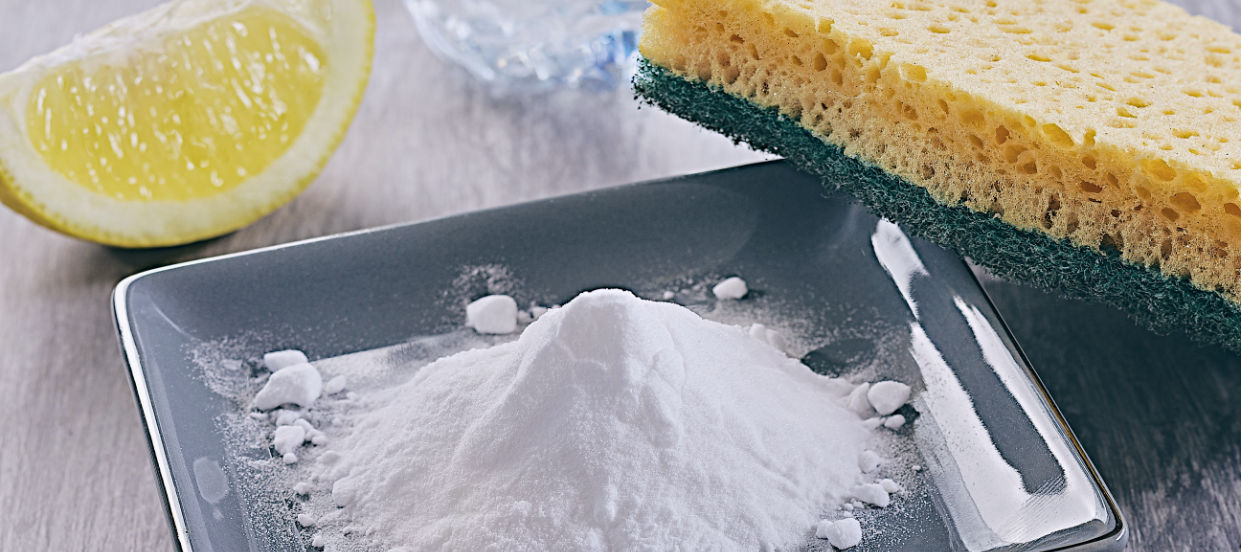 Baking soda: natural and biodegradable, this white powder is perfect for cleaning cookware. Start by removing as much of the burnt matter as possible with a wooden spoon (so you don't scratch your cookware). Next, add a layer of baking soda to the bottom of your saucepan or frying pan and cover the layer with water. Bring the mixture to a boil, let boil for several minutes, and if necessary, scrape the bottom of the pan with a wooden spoon. Finally, wash and rinse your cookware with clean water: it should be like new!
With white vinegar: this natural cleaning agent is ideal for cleaning and maintaining many surfaces and utensils. Use a wooden spatula to remove as much of the residue as possible, then add some white vinegar and water. Heat the mixture: the residue will disintegrate as the liquid warms up. Once all the residue and burnt matter is gone, wash and rinse your cookware as usual with clean water.
If your cookware is extremely damaged (warped body or depleted coating), it will no longer be able to cook like before. That means it's time to replace it! But before you throw away and replace your saucepan or frying pan, find out how to recycle it.
Recycling promos, customer loyalty...Sitram regularly participates in special operations with retail chains. Stay tuned to get your new cookware at the best price!