Cast iron Dutch ovens,
THE FAVORITES OF GOURMET COOKS
Also called French ovens (when their interior is enameled), traditional cast iron Dutch ovens have been modernized and are now some of the most popular cookware found in kitchens today. Cast iron Dutch ovens let you create all kinds of delicious recipes, in particular timeless, authentic, family style cuisine. At Sitram, we offer a large selection of cast iron Dutch ovens.
Efficient, beautiful, and easy to use, Dutch ovens are perfect for sharing hearty and healthy meals with loved ones. Sitram has a Dutch oven for every taste and need, whether you're looking to whip up some cozy meals in the fall or winter or some vitamin-packed dishes in the summer or spring! So why should you use a Sitram cast iron Dutch oven? And how do you choose the right model for your needs?
---
The benefits of a Sitram cast iron Dutch oven
Cast iron Dutch ovens simmer food slowly to capture and maximize its flavors. But that's not all. Dutch ovens make for beautiful centerpieces and increase the enjoyment of shared meals. They also keep food warm during the entire meal. Durable, multifunctional, and resistant, a cast iron Dutch oven is a long-term investment that you'll be glad you made!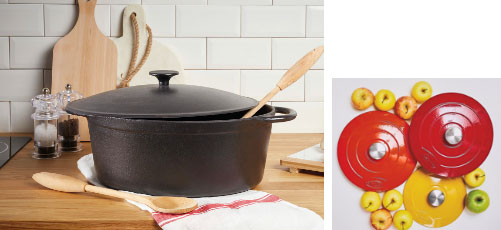 Versatile cookware
As their name suggests, cast iron Dutch ovens are made of cast iron. They come in round or oval versions with large, convenient handles on the sides. Their lids are equipped with a knob (done in stainless steel on Sitram Dutch ovens).
Today, enameled cast iron Dutch ovens (also called French ovens) are the most popular of all the Dutch ovens on the market. Enamel protects the cast iron against oxidation (and thus rust). The enameled versions are also more durable, safer for your health, and easier to clean. Sitram cast iron Dutch ovens are made with an enameled inner and outer coating.
Enameled cast iron is not only durable, but also provides for outstanding distribution of heat. Cast iron Dutch ovens can be used for all kinds of cooking, including frying, simmering, braising, and roasting. They are oven-safe, which means you can even use them to bake bread in the oven! Depending on their size, cast iron Dutch ovens can also be used to prepare many recipes in large quantities.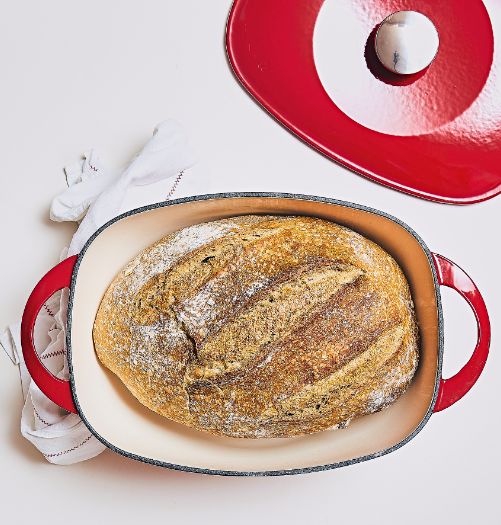 Authentic and flavorful cuisine
Once closed, the lid prevents steam and cooking liquids from evaporating during cooking, thereby intensifying the flavors of food. Steaming, simmering, braising — regardless of the method, Dutch ovens allow you to cook slowly and gently for several hours over low heat.
In addition to capturing authentic and incomparable flavors, cast iron Dutch ovens are excellent at preserving the nutrients in foods. Our Sitrabella and Prisme lines come with ridged inner lids for continuous self-basting.
During cooking, the steam is transformed into drops of liquid upon coming into contact with the lid. These drops trickle down along the built-in ridges on the inside of the lid and fall back onto the food. As a result, the entire dish is basted from start to finish.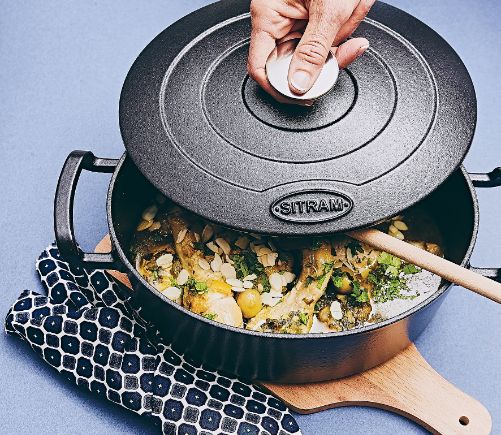 A strong and durable Dutch oven
Enameled cast iron Dutch ovens are compatible with all types of cooktops (electric, vitroceramic, gas, and induction) and kitchen equipment.
Made entirely of enameled cast iron, our Dutch ovens are incredibly durable. They can be used over extremely high heat as well as in the oven.
If you take good care of your Sitram Dutch oven, it will last for your entire lifetime. You can even pass this robust and authentic cookware down to future generations, along with your secret family recipes!
Dutch ovens are extremely easy to clean: all you need is some hot water and a little dishwashing liquid. We recommend washing and drying your Dutch oven immediately after use. Want to learn more about how to use and care for your Sitram cast iron Dutch oven? Visit our Tips section.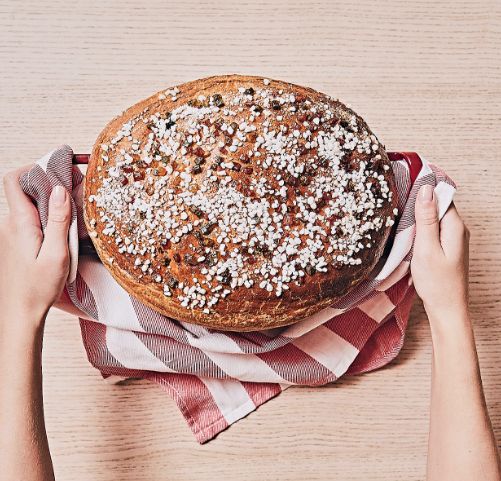 Functional and perfect for sharing
When using a cast iron Dutch oven, you're free to do other things while your food is cooking. You won't have to check or baste your food. The walls of a Dutch oven are extremely thick to prevent food from burning. Dutch ovens provide for perfectly cooked food, every time. Simply place your Dutch oven on your cooktop and set it to low heat. Dutch ovens also keep your food warm for several hours at a time, making them handier than most modern cookware.
Sitram Dutch ovens are designed to make your daily cooking more convenient. The Sitrabella line (for example) is made with ergonomic handles. In addition to improving the grip and making the Dutch oven easier the maneuver (Dutch ovens are quite heavy), these handles are designed to hold wooden spoons so you don't have to worry about getting your countertops dirty.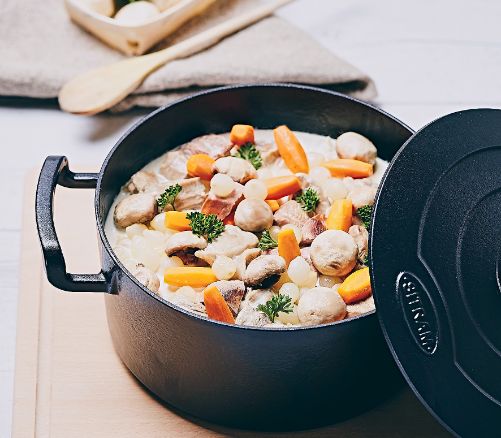 Finally, Dutch ovens also make for stunning centerpieces on your kitchen or dining room table. Veritable designer objects, Dutch ovens are perfect presentation dishes. Available in several sizes and colors, cast iron Dutch ovens have a vintage and retro feel but are still in line with the latest trends.
Which Sitram cast iron Dutch oven will you choose for your kitchen?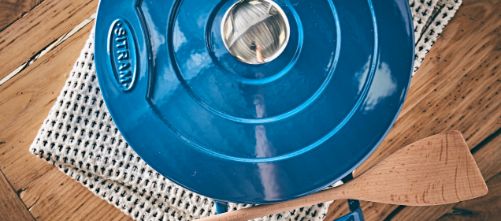 Choosing your Sitram cast iron Dutch oven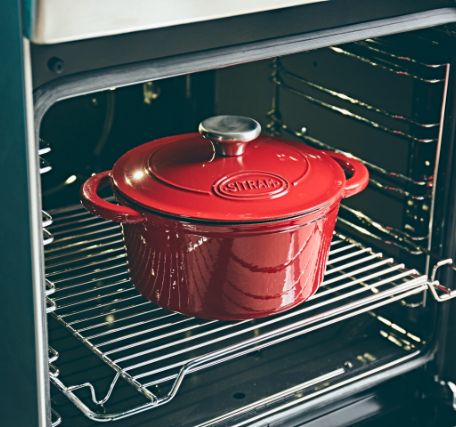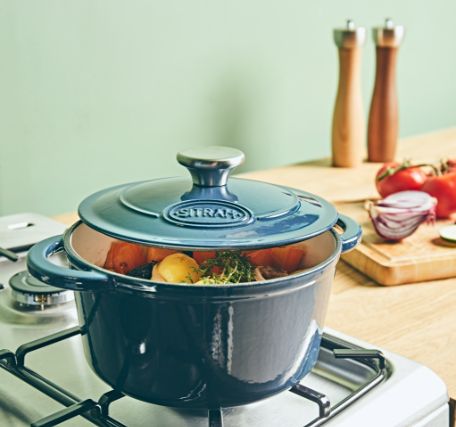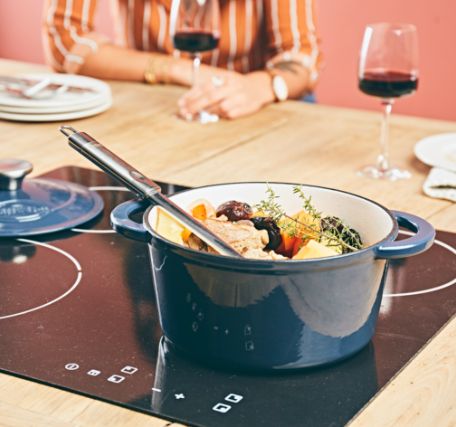 All Sitram Dutch ovens are made of cast iron, a durable and authentic material that provides for robust and optimal cooking conditions (slow cooking, low-temperature cooking). Our Dutch ovens are compatible with all cooktops, and can even be used in the oven.
Sitrabella, Prisme, and Tradifonte: Sitram offers three lines of cast iron Dutch ovens to meet the needs of all cooks. There are several factors to take into consideration before choosing a Dutch oven.
Round or oval?
Dutch ovens usually come in one of two shapes: round or oval.
Oval is the most traditional shape for Dutch ovens. Oval Dutch ovens are perfect for cooking whole roasts and chickens, simmering stews, and baking recipes in the oven. They are therefore the most versatile Dutch ovens.
Meanwhile, round Dutch ovens are more original. Nevertheless, this shape is also ideal for cooking traditional simmered dishes (e.g., beef bourguignon, blanquette of veal, ossobuco, Navarin of lamb, etc.). If you want to use a round Dutch oven to cook a whole fish or chicken, make sure you choose a sufficiently large diameter.
Not sure which shape to choose? Go for both! A black or red oval Dutch oven provides for a timeless and authentic feel, while a round orange or mustard yellow Dutch oven will add a touch of flair to your meals.
At Sitram, we also offer a selection of square and rectangular cast iron Dutch ovens. Made of premium cast iron, our modern Prisme line brings out the elegance and sophistication in your kitchen.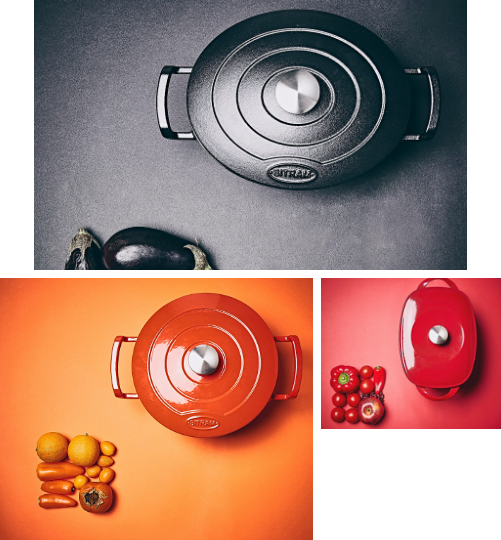 Which size?
16 to 21 cm diameter (1.2 to 2.5 liters)
Ideal for preparing a meal for 1 or 2 people.
Around 24 cm diameter
With a volume of 4 to 5 liters, these Dutch ovens can cook for up to 4 people.
32 cm diameter
If you love to entertain or need to cook a meal for 8 to 10 people, then opt for a bigger cast iron Dutch oven. These Dutch ovens have a diameter of 32 cm and a volume of 9 liters.
Depending on the model, you can choose from several sizes and volumes (from 16 to 32 cm in diameter, and from 1.2 to 9 liters). Most Dutch ovens have a volume of 4.5 liters and can cook for up to 4 people.
To pick the right size, simply count the number of people in your household. The bigger your household, the larger your cookware has to be.
Want to learn more about the size and volume of our Dutch ovens? Visit our Tips section.
Choosing the color
White, yellow, black, orange, red, green...at Sitram, we have a color for everyone! If you want a timeless Dutch oven, opt for a traditional color such as black, dark red, or flame orange. These classic colors are inspired by the Dutch ovens of our grandmothers!
At Sitram, we also offer modern, original, and trendy colors. Mustard yellow, sage green, clay beige...these modern hues add a splash of bright and sunny color to your table. Our Dutch ovens also come with stainless steel knobs and a matte or glossy finish.
Inside, the color is eggshell white or black. Black is advantageous as it rarely stains. On the other hand, a white interior makes it easier to keep an eye on your food while it is cooking.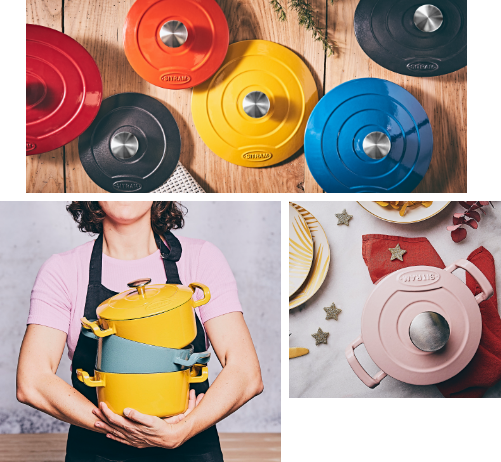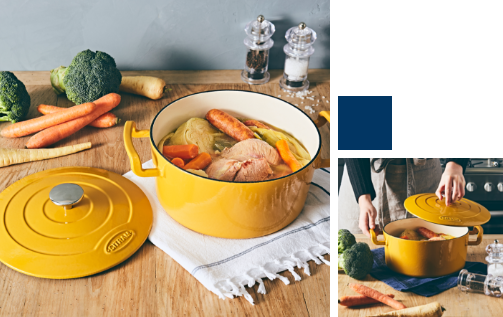 The best recipes for your cast iron Dutch oven
The various types of cooking
Simmering
Simmering involves cooking food in liquid for at least one hour over low heat. In this way, foods can be infused (among other things) with wine, sauces, spices, and a bouquet garni;
Roasting
Roasting involves cooking over low heat to make the foods tender. It is particularly well-suited for poultry and meats. It can be done both with and without a lid;
Braising
Braising consists of first cooking the food with fat over high heat. Once the juices are released, the food is removed from the Dutch oven. The cookware is then deglazed with water, stock, or wine. Finally, the food is put back inside the Dutch oven and cooked slowly to enhance its flavors;
Steaming
Steaming involves cooking with no fat. Food is simply placed inside the Dutch oven and cooked with the lid closed. The water in the food evaporates and condenses, which in turn cooks and flavors the food. Steaming is therefore reserved for short cooking times and water-rich foods.