PRESSURE COOKERS
QUICK AND EASY COOKING FOR BUSY COOKS
Maybe you already own a French oven, a stock pot, a steamer, a rice cooker, a multi-purpose kitchen machine, or a slow cooker. All this cookware has its advantages, and pressure cookers in no way replace it. However, pressure cookers do make for the perfect addition to your other kitchen equipment.
Pressure cookers have a superpower: they cook food at lightning speeds!
Recipes that take hours to cook in other cookware can be made in a third or a quarter of the time (and sometimes even faster!) in a pressure cooker. For busy cooks, pressure cookers save precious time while continuing to allow for healthy eating.
So how does a pressure cooker work? And how do you choose the right one?
---
Pressure cookers: 10 questions and answers
1
What's a pressure cooker?
Pressure cookers are airtight cooking devices that use steam to cook food quickly.
2
How do pressure cookers work?
Pressure cookers are based on cooking via high-pressure steam. An airtight lid traps the steam inside the cooker, while the pressure allows the temperature to rise above 100°C (212°F), which in turn cooks your food faster.
3
Why should I buy a Sitram pressure cooker?
Pressure cookers are extremely versatile. They allow for the quick and easy preparation of all kinds of recipes, from simple steamed potatoes to simmered dishes and even desserts such as caramel flan and yogurt!
Sitram has been specializing in pressure cookers since 1963. Our pressure cookers come with a 15-year warranty.
4
How long do pressure cookers last?
Sitram pressure cookers are made of extremely thick stainless steel. They are ultra-resistant and easy to clean, and therefore incredibly durable. It's not uncommon for our pressure cookers to be passed down from generation to generation, along with secret family recipes!
5
Do pressure cookers really save time?
Since the high-temperature cooking only starts when the pressure (steam) has accumulated in the pot, you'll save the most time on those foods which take the longest to cook, such as chickpeas (1/4 the cooking time), potatoes or beef bourguignon (1/3 the cooking time), green beans or pork roast (1/2 the cooking time), etc.
6
Can I use a Sitram pressure cooker on an induction hob?
Yes, thanks to their 100% stainless steel composition, all Sitram pressure cookers can be used on induction hobs - as well as all other cooktops.
7
Does high-temperature cooking destroy the nutrients in food?
Thanks to the speed of pressure cookers, you'll actually preserve 90% of the vitamins in your food, especially when using the steam basket as the nutrients are not destroyed or diluted in the cooking liquid.
8
Are pressure cookers economical?
Yes, absolutely. Thanks to the considerably shorter cooking times, you'll reduce your energy consumption by up to 70% compared to traditional cooking methods. Good for your budget and good for the planet!
9
Are pressure cookers bulky?
Pressure cookers come in a variety of different sizes. A 6-liter pressure cooker is only slightly larger than a pot or Dutch oven, and some models come with space-saving foldable handles.
10
Do Sitram pressure cookers come with accessories?
All our pressure cookers are sold with a stainless steel or silicone steam basket. Some models come with an ergonomic spoon for removing the steam basket. Sitram also offers models with timers for even greater convenience.
Our Sitrapro pressure cooker is made with foldable handles to save space in your cupboards.
Choosing a pressure cooker

Size, volume, material, closing system...there are several things to take into consideration before purchasing a pressure cooker.
Which size is for you?
Our pressure cookers come in a variety of sizes (from 6 to 13 liters) to cater to the needs of all consumers.
Please see our Tips section for more information on sizes and volumes.

The raw material: Stainless steel
All our pressure cookers are made of stainless steel, a raw material that is both extremely robust and perfectly healthy. Stainless steel is also incredibly durable and easy to clean, even if burnt food gets stuck to the bottom of the cookware.
For more information, see our tips on cleaning stubborn stains.
Thanks to their composition, Sitram pressure cookers are compatible with all cooktops, including gas, electric, vitroceramic, halogen, and induction.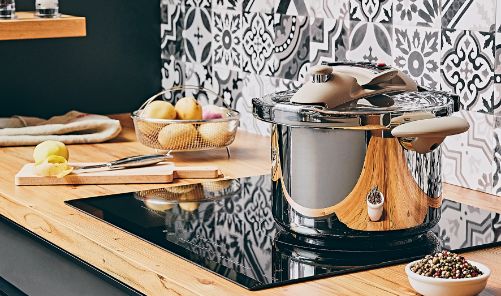 Sitram secure
closing systems
In order to optimize performance (by allowing for the buildup of pressure), Sitram pressure cookers are made with 100% airtight lids.
Regardless of the type of opening/closing system, all our pressure cookers are perfectly safe to use.
Our secure closing systems protect against accidents in the event of misuse or a defect in the cookware. If the pressure becomes too great inside, they lock the lid in place and allow for steam to be released.
We ensure the safety of our pressure cookers with at least 4 safety devices on each of our models: closing safety, opening safety, gasket extrusion, and safety valve security.
Our pressure cookers are approved by the LNE (National Laboratory of Metrology and Testing), the leading reference lab in France.
Our products undergo the 14 safety checks of French standard NF EN 12778.
They are also tested extensively in our in-house lab, using testing methods and equipment which have been approved by SGS France.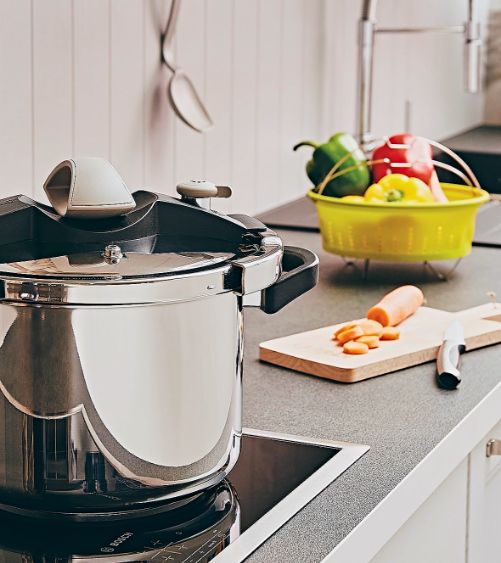 At SITRAM, we offer 3 types of closing systems for our pressure cookers: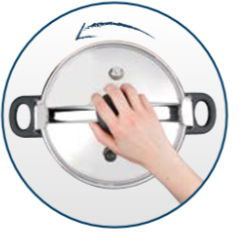 Clamp closure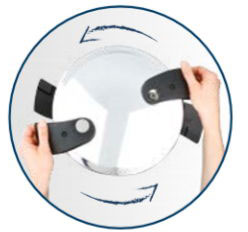 Bayonet closure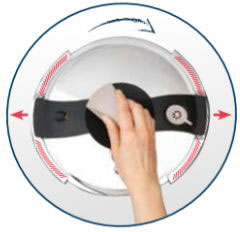 Rack and pinion closure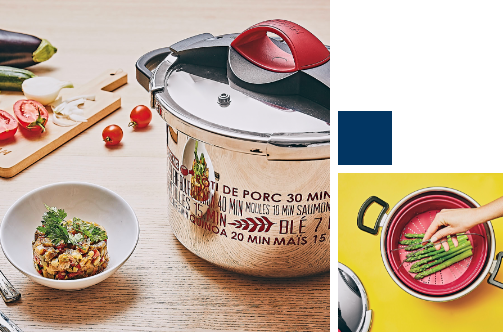 Which recipes can I make with a pressure cooker?
Believe it or not, but pressure cookers can be used to make a wide variety of recipes. Some of these recipes (such as soups and steamed artichokes or potatoes) are well-known. But others may surprise you! You can use your pressure cooker to make everything from steamed vegetables to gourmet desserts and delicious dishes with sauces.
---
Steaming made easy: fresh broccoli, green beans, asparagus, cauliflower, artichokes, endives, beetroots, potatoes, and more...
Our pressure cookers come with steam baskets that are perfect for steaming all your vegetables. For vegetables that cook quickly (broccoli, asparagus, zucchini, etc.), you can use your pressure cooker just like a saucepan. For vegetables that take longer to cook (potatoes, beetroots, artichokes, cauliflower, etc.), you can close the lid and pressurize the cooker. This will cook your vegetables faster and save you precious time.
Average cooking times for fresh vegetables
Cooking or
steaming time
in a saucepan
in a pressure cooker
(when the valve starts
to whistle)
Artichokes
25-30 minutes
15-18 minutes
Green beans
15 minutes
7 minutes
Cauliflower
12-18 minutes
3-9 minutes
Potatoes
(depending on size)
20-25 minutes
7-10 minutes

Cook dried vegetables in a jiffy: chickpeas, kidney beans, lentils, split peas, and more...
Your pressure cooker will save you precious time when preparing legumes, which are infamous for their long cooking times. By cooking 3, 4, or even 5 times faster than usual, you'll also preserve all the vitamins and nutrients in these healthy foods! Make delicious hummus, chili con carne, or a homemade lentil dish...
Average cooking times for dried vegetables
in a saucepan
in a pressure cooker
(when the valve starts
to whistle)
dried kidney beans
(soaking required)
20-25 minutes
Kidney beans
(previously soaked for 8 hours)
45-90 minutes
10-12 minutes
dried chickpeas
(soaking required)
30-40 minutes
chickpeas
(previously soaked for 8 hours)
60-90 minutes
12-18 minutes
green lentils
12-18 minutes
8-10 minutes
Indulge in delicious simmered or braised dishes: boeuf bourguignon, ossobuco, pork shank, whole chicken or chicken in sauce, pork roast, and more...
All the recipes with sauces that you prepare in your Dutch oven can also be made in your pressure cooker. This will save you precious time, especially when cooking chewy meats (chuck, flank, shank, etc.), which become tender and flavorful in the pressure cooker.
In fact, airtight cookware tends to enhance the favor of foods as the juices are concentrated and do not evaporate during cooking.
Average cooking times for meat dishes
in a Dutch oven
or oven
in a pressure cooker
(when the valve starts
to whistle)
Beef with carrots/beef bourguignon
2h30 to 4h
(depending on recipe)
1h
Blanquette of veal
1h30
40 minutes
Ossobuco
1h15
18 minutes
Whole chicken
(1.5 kg or 3.3 lbs)
1h30
35-40 minutes
Pork roast
(1 kg or 2.2 lbs)
1h15
30 minutes
Discover some of our meat recipes made in the pressure cooker: Veal shank simmered with red kuri squash / Summer ratatouille / Beef with carrots / Beef bourguignon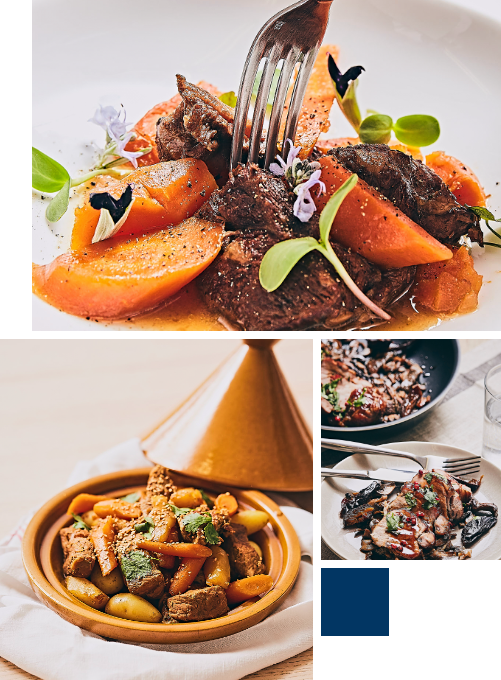 ---