FRYING PANS
KITCHEN COOKWARE ESSENTIALS
If you could only have one piece of cookware, it would be a frying pan. After all, frying pans are used more than any other cookware on a daily basis. They can cook almost anything: fried eggs and omelets, steaks, whole fish or fish fillets, stir-fried chicken, breaded recipes, vegetables browned in olive oil, dishes in sauces, healthy meals, and even desserts...
Frying pans are an essential part of every kitchen!
At Sitram, we offer a wide range of PFOA-free frying pans for every culinary need. We have a frying pan for everyone, whether you're whipping up some simple fried food, trying out a difficult new dish, or making changes to a tried and tested recipe !
Discover the large selection of Sitram frying pans and choose the pan that best meets your needs.
---
Frying pans offered by Sitram
Aluminum or 100% stainless steel, with or without a detachable handle, griddles, crepe pans, woks for Asian recipes... Discover Sitram's full selection of frying pans.
Choose from aluminum frying pans with fixed or removable handles, 100% stainless steel frying pans, coated stainless steel frying pans, grill pans, sauté pans, and woks.
Aluminum frying pan,

Fixed handle
Perfect for everyday cooking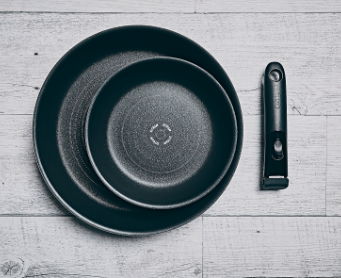 Aluminum frying pan,

Removable handle
Functionality at its best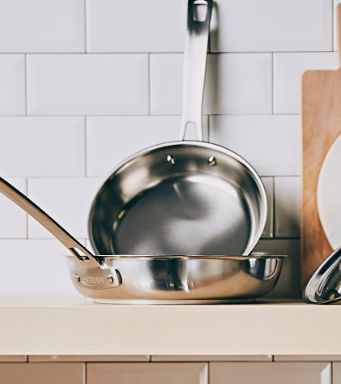 Stainless steel
frying pan
Healthy, simple, and elegant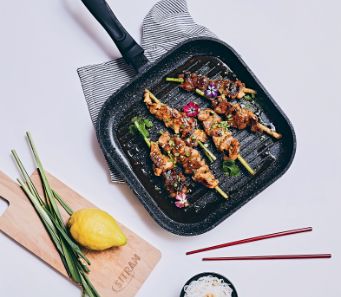 Grill
pan
A BBQ grill in your kitchen!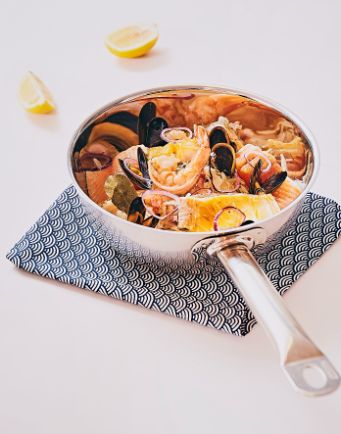 Sauté pan
Cook like a professional chef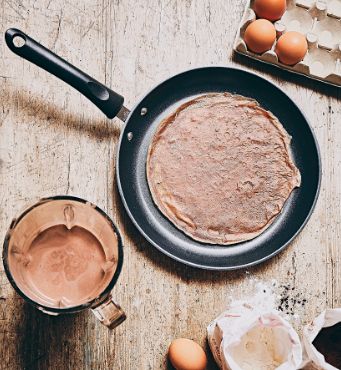 Crepe pan
Flip your pancakes and crepes!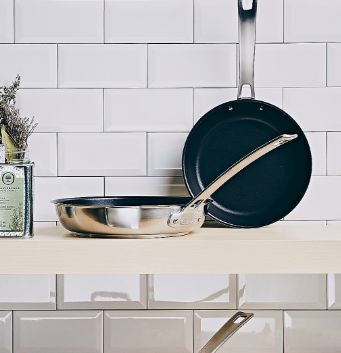 Stainless steel

frying pan,


with a coating

Functional and beautiful
wok
For all your Asian dishes
Choosing the perfect frying pan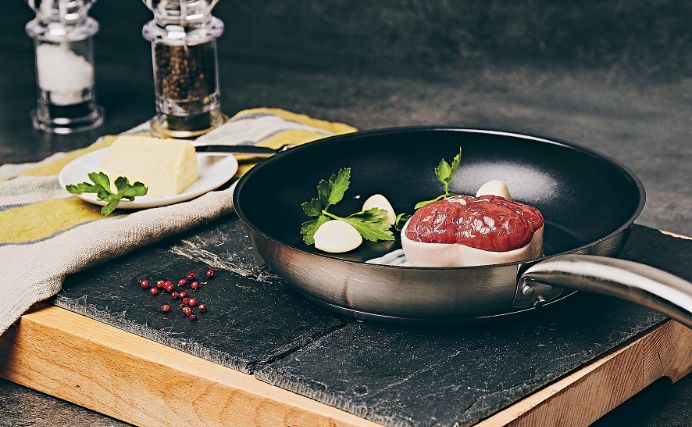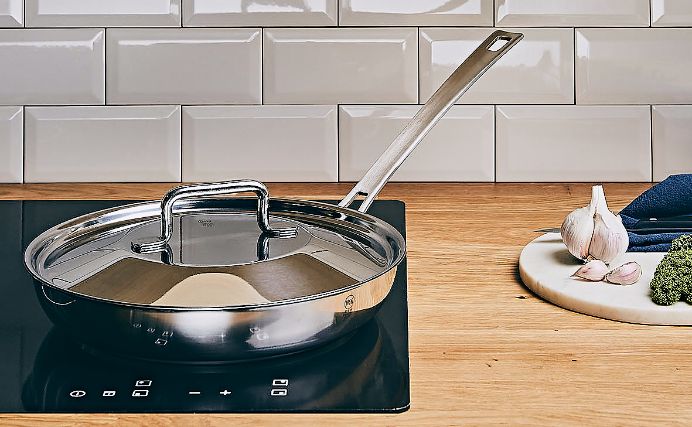 If your frying pan is damaged and you wish to replace it, think about the things you cook the most. Will you use your new frying pan to grill meats, to fry scallops, or to make crepes? Do you cook on a gas burner, a vitroceramic hob, or an induction cooktop? Are you more interested in functional or heavy-duty cookware? These questions can help you narrow down your search and choose the perfect frying pan for your kitchen.
Stainless steel, cast iron, or aluminum: which material?
Our multipurpose frying pans come in a variety of different materials, each with its own strong and weak points. The right frying pan will be the one that best meets your cooking habits, needs, and preferences. Consider the composition of your new frying pan: what is its primary material? Which material is used for its coating (if it has one)? Does the frying pan come equipped with any special features (such as a flame guard or reinforced base)? Every detail is important!
The primary material
This is the material from which the frying pan is molded. At Sitram, most of our frying pans are made of stainless steel, cast iron, or pressed aluminum. Each of these materials has its own pros and cons. How efficient is the frying pan? Is it durable? Is it easy to care for, use, and clean? Before buying a frying pan, always make sure it is compatible with your cooktops.
The inner coating
Some people prefer cooking with the juices obtained by deglazing hot frying pans after caramelizing meats or vegetables. These cooks are likely to choose 100% stainless steel pans without a coating. On the other hand, those who don't want their food to stick will go for a frying pan with a non-stick coating. All our coatings are guaranteed PFOA-free and safe for your health.
To learn more about coatings, please see our Coating Guide.
Fixed or removable handle?
Most frying pans are sold with fixed handles. However, Sitram also offers lines with detachable handles. This cookware offers a number of advantages:
Save space
Our one-of-a-kind handle is perfect for pots and pans of all sizes. It lets you stack your cookware and save lots of space in your drawers and cupboards (even in the fridge!).
Easy washing by hand or in the dishwasher
Without a handle, your pan will easily fit in the dishwasher. Washing by hand also becomes that much easier.
Use your frying pan in the oven
Some of our frying pans can even be used in the oven. The detachable handle makes it easy to place these pans in the oven and remove them smoothly.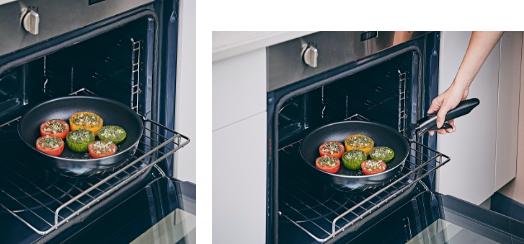 Sitram offers several lines of frying pans with removable handles, including the Sitramulti and Sitramovible lines.
Our frying pans with fixed handles are just as impressive. If you have a spacious kitchen, feel free to show off our frying pans designed with premium details and top-of-the-line finishes. Our stainless steel frying pans with polished, copper, or matte ebony finishes will look great hanging in your kitchen!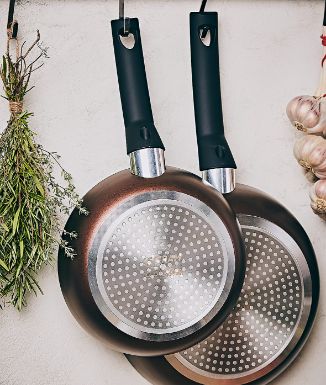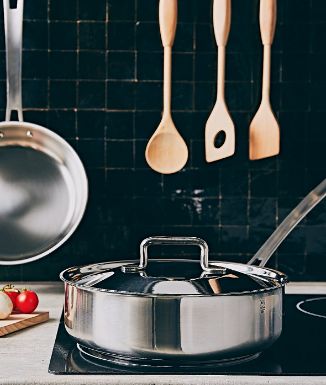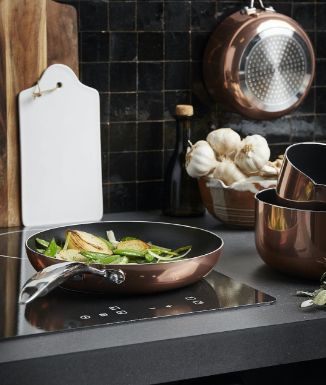 Which diameter?
There are two things to consider before choosing the diameter of your frying pan: the number of people in your household and the diameter of your cooktops.
Your frying pans should neither be too small nor too big for your hobs. Otherwise, you risk damaging or affecting the performance of your cookware.
Ideally, your kitchen should be equipped with a variety of different frying pans (materials and diameters). This will allow you to prepare all kinds (and quantities) of foods.
Which frying pan for which recipe?
When cooking...
Red meat (steak, duck breast, etc.)
Type of frying pan...
Uncoated stainless steel cooked over high heat to sear the meat on the outside and keep it raw on the inside.
Grill pans are made with ridges which are perfect for creating beautiful BBQ style marks as they prevent meat from cooking in its fat or juices. Rub your food with oil before cooking it on the hot surface of this pan.
Our recipes for pan-seared meats
Caramelized filet mignon
Flank steak with shallots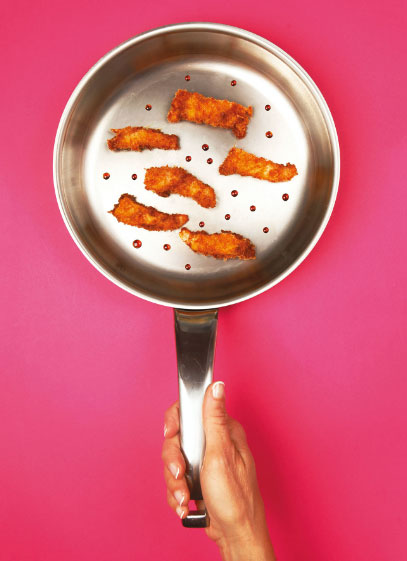 Which frying pan for which recipe?
When cooking...
Fish steaks, tuna tataki
Type of frying pan...
A stainless steel frying pan will be perfect for searing one side of a salmon steak or preparing a delicious marinated tuna tataki.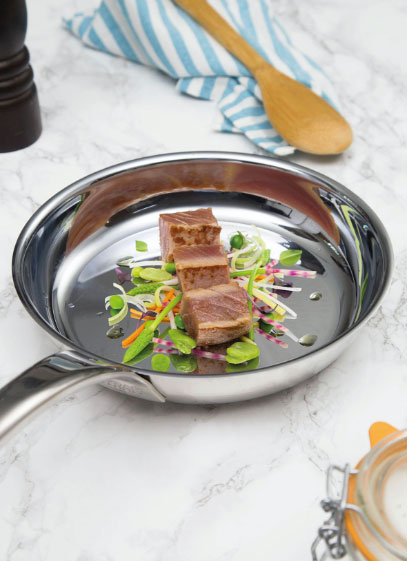 Which frying pan for which recipe?
When cooking...
Omelets, fried eggs, scrambled eggs
Type of frying pan...
Choose a stainless steel or aluminum frying pan with a non-stick coating so you can flip your omelets and remove fried eggs without breaking the yolks.
Our recipes for omelets and eggs
Potato and asparagus frittata
Fried eggs in a nest of potatoes with herbs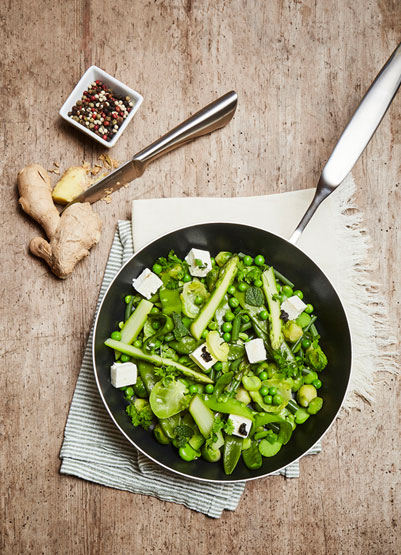 Which frying pan for which recipe?
When cooking...
Sautéed or braised vegetables
Type of frying pan...
Uncoated frying pans are ideal for caramelizing vegetables (such as carrots which naturally contain sugar), while pans with a non-stick coating are better for slow and gentle cooking.
Our recipes for pan-fried vegetables
Roasted carrots with maple syrup
Sautéed asparagus with Parmesan and bacon