TIPS ON CHOOSING A SAUCEPAN
Saucepans are go-to cookware for all kinds of recipes. As a result, they are perhaps the most important part of a cookware collection. At Sitram, we offer a variety of pots and saucepans to accommodate all your needs and preferences.
Materials, sizes, colors, coatings...how do you pick the perfect saucepan? Which material should you choose? And how do you care for your saucepans on a daily basis?
1
Which type of saucepan?
Made with high, straight edges, saucepans are an essential part of any cookware collection. But before choosing a saucepan, think about how you'll be using it. You can opt for:
A saucepan with straight edges: to cook foods in liquid (water or stock) or make preparations in a double boiler;
A saucepan with pour spouts: to make sauces, caramels, and coulis;
A pot (a large saucepan with two handles): to cook large quantities of food (e.g., pasta).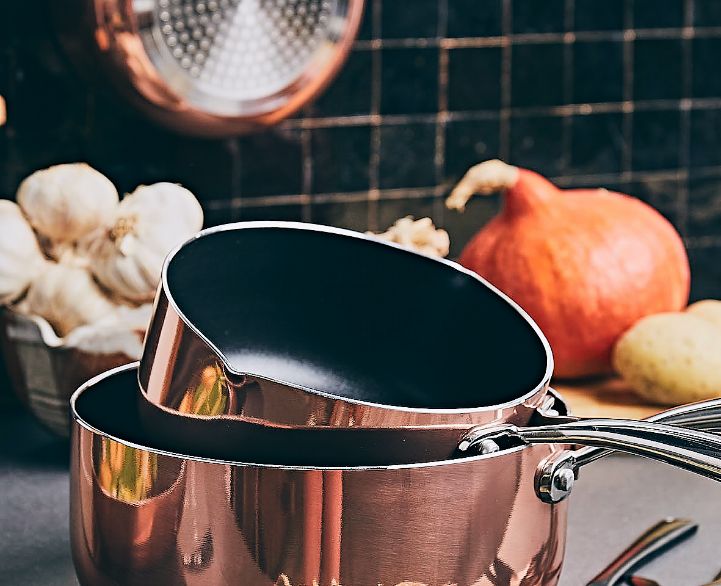 2
Which size?
Saucepans are some of the most common everyday cookware. Their size should correspond to the number of people in your household. The right saucepan will let you conveniently cook meals for your family, as well as prepare recipes for the occasional dinner party! Ideally, your cookware collection will include a variety of different-sized pots and saucepans.
You can use the following table as a guide, keeping in mind that volumes may vary depending on the depth (height) of the saucepan:
| | | | |
| --- | --- | --- | --- |
| Diameter (cm) | Suitable for | Volume (in liters) | Cookware |
| 14 cm | 1 person | 1 L | saucepan |
| 16 cm | 1 to 2 people | 1.5 L | saucepan |
| 18 cm | 2 to 3 people | 2 L | saucepan |
| 20 cm | 3 to 4 people | 2.5 to 2.9 L | saucepan, pot |
| 24 cm | 5 to 6 people | 3.5 to 5 L | pot |
| 28 cm | 8 to 10 people | 7 L and more | pot |
For a household of 2 adults or 2 adults and 1 child, you might choose a 16 cm and an 18 cm saucepan.
For a family of 2 adults and 2 children, you might choose an 18 cm and a 20 cm saucepan.
For a family of 2 adults and 3 children, or for 4 adults, you might choose 3 saucepans: 18, 20, and 24 cm.
In addition to these saucepans, you'll need a large pot for cooking pasta and larger quantities of food when you have friends or family over for dinner. A small saucepan (0.5 or 1 L) is also handy for preparing sauces or coulis.
Good to know: the choice of diameter not only depends on the size of your household, but also on the size of your hobs. If the saucepan is too small, it can overheat and become damaged. On the other hand, if its diameter is much larger than that of your hob, then heat is distributed poorly and food takes longer to cook. It's therefore a good idea to have several pots and pans with different diameters!
3
Is the saucepan compatible with your cooktop?
Not all pans are compatible with all types of cooktops. The main criterion for compatibility is the material of the cookware. Before investing in cookware, always check the symbols on the surface or the packaging. At Sitram, the vast majority of our pots and pans are compatible with all cooking equipment and cooktops, including induction hobs.
Gas
Electric
Vitroceramic and halogen
Induction
In search of a more versatile saucepan? Our pans with detachable handles can be used in the oven without the handle. With this high-performance cookware, you can start recipes on your stove and finish them in the oven.
Before choosing your cookware, check the following symbols on the packaging of our products.
Do not use in oven
Oven-safe up to 180°C
Oven-safe up to 250°C
4
Which optional features?
Sitram pots and pans come with several optional features:

Detachable handles: these handles let you stack your pans inside each other and save space in your cupboards;
Glass lids: these lids make it easier to check on the food inside your cookware;

Liter scale: engraved on the inside of the pan, this scale makes it easier to prepare your recipes;
A variety of designs for every taste and style:
Wooden handles;
Rounded edges;
Original colors: champagne, brown, copper, and translucent red;
Details (quotes or designs).