HOW TO CHOOSE AND USE YOUR PRESSURE COOKER
As far as cookware goes, pressure cookers are still relatively unknown. And yet, these handy devices let you prepare a wide variety of recipes in record time! More affordable than a slow cooker or cooking food processor, pressure cookers also free up precious time for other things while your meal is simmering.
Sitram has been a pioneer of pressure cookers since the 1960s and offers several models for your cooking convenience. So how do you choose a pressure cooker? How do you use it?
And how do you maintain it so it lasts for many years to come?
1
How to choose a pressure cooker
Capacity, compatibility, closing system, and optional features: The criteria to consider when purchasing a pressure cooker.
Which capacity?
Before choosing a pressure cooker, the first thing you want to consider is its size. How many people are in your household?
Sitram offers pressure cookers in a variety of sizes (6, 8, 10, and 13 liters) to meet the needs of all consumers. Here are some basic guidelines to help you choose the right capacity:
| | | | |
| --- | --- | --- | --- |
| Capacity (L) | Suitable for | Diameter (cm) | Height (cm) |
| 6 L | 4 to 6 people | 24 cm | 13.5 cm |
| 8 L | 6 to 8 people | 24 cm | 17.5 cm |
| 10 L | 8 to 10 people | 24 cm | 22 cm |
| 13 L | 10 to 13 people | 24 cm | 28.5 cm |
For example, a 6-liter pressure cooker is ideal for a family with 2 adults and 2 children.
If you like to throw dinner parties, you may wish to go with a 13-liter pressure cooker.
Tip: If you're hesitating between two sizes, we recommend choosing the larger size. To make room for steam, pressure cookers should never be filled more than 2/3 full. It's best to be prepared for every situation ! ». Choosing a bigger model will enable you to accommodate unexpected guests!
Pressure cooker compatibility
Attention! Aluminum pressure cookers cannot be used on induction cooktops. Our pressure cookers are made in 100% stainless steel, which is compatible with every type of cooktop.
You can use your Sitram pressure cooker on:
induction cooktops;
gas cooktops;
electric cooktops;
ceramic cooktops;
halogen cooktops;
Gas
Electric cooktops
Ceramic and halogen cooktops
Induction cooktops
Which closing system?
Pressure cookers are based on the concept of steam pressure cooking. Their opening and closing mechanisms are therefore extremely important. Pressure cookers come with a variety of closing systems:
Clamp closure: the lid is designed with a clamp and a button. The button lets you lower the clamp and close the pressure cooker once the lid is firmly in place under the clamp hooks. This is the most common type of closing system;
Bayonet closure: to close the pressure cooker, simply align the arrows on the lid with the arrows on the handles and press gently. The pressure cooker locks in a fraction of a second;
Rack and pinion closure: this one-handed opening/closing system is extremely practical. Simply lower the handle to close the lid of the pressure cooker, and lift to unlock it.
Sitram pressure cookers are made with 100% airtight closing systems to allow for an optimal rise in pressure. At Sitram, we're serious about safety. All our pressure cookers are made with safety valves. These valves release steam in the event of excessive pressure and prevent the cooker from opening unexpectedly.
Which optional features?
Pressure cookers are often sold with optional features. Sitram offers the following:
Folding handles to save space in cupboards;
A timer for precise monitoring of the cooking time;
2
How do you use your pressure cooker?
Based on the concept of pressure cooking, pressure cookers speed up the cooking process. Depending on the food, the amount of time that is saved can be considerable (up to 7 or 8 times faster than traditional cooking in a pan or oven).
Nevertheless, a few basic principles must be followed to ensure the safety of pressure cooking with a pressure cooker. There are 5 steps to using a pressure cooker.
5 steps to using your pressure cooker
1
Place your raw or previously cooked food (as per the recipe) in the pot or the steam basket of the pressure cooker.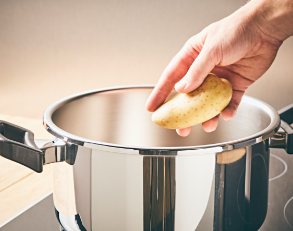 2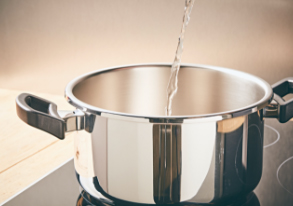 Add your cooking liquid (water, stock, etc.): at least 1 glass, cooker no more than ⅔ full. The amount of liquid to be used depends on the type of food and the cooking time. The recipe usually provides this information.
3
Close the cooker, making sure you have followed the instructions on properly sealing the lid. Put the pressure cooker on high heat. The cooking liquid will begin to turn into steam.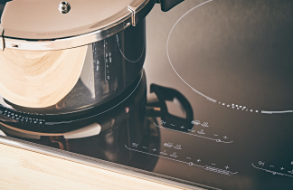 4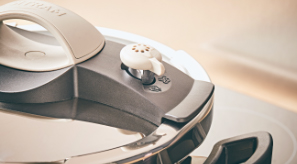 Once the desired pressure is reached, the steam will start to escape through the regulator or the pressure indicator will rise (depending on the model). Turn down the heat and cook for the amount of time indicated in the recipe.
5
After this time, turn off the heat and reduce the pressure according to the method indicated in the recipe (natural or rapid release or under cold water). When there is no more steam (or the pressure indicator goes down), you can open the lid.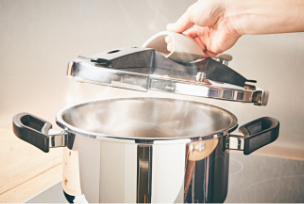 The golden rules of cooking with a pressure cooker:
1. Always read the instruction manual before use.
2. Follow the instructions in the recipe.
3. Do not fill the cooker more than 2/3 full, or 1/2 full if you're cooking grains or lentils. These foods expand during cooking and can block the steam release valve.
4. Always add some cooking liquid to allow for the formation of steam and prevent your food from burning.
5. Never try to force open the lid. Wait until the pressure has dropped.
6. The gasket of your pressure cooker should be replaced regularly (on average, once per year).
3
Cleaning and maintenance: Extending the lifespan of your pressure cooker

Sitram stainless steel pressure cookers are extremely easy to clean. By following a few simple guidelines, you'll be sure to enjoy your pressure cooker for many years to come! Sitram pressure cookers are super robust and durable. Made without special coatings or fragile accessories, they won't let you down no matter how hard you push them...
1. Washing by hand (recommended)
The pan and the lid of your pressure cooker can be washed by hand with water and a sponge. If necessary, you can also use a scrubbing sponge (in the vast majority of cases, this will not be necessary). Never use bleach on burnt residues (e.g., due to insufficient liquid or the cooker being left on high heat for too long). Instead, see our page on advanced cleaning.
Never soak the lid in water or wash it in the dishwasher. Otherwise, the safety valve may no longer work properly.
2. Dishwasher cleaning
The pan is dishwasher safe. Place it upside down in the lower rack of the dishwasher. The steam basket can also be washed in the dishwasher. On the other hand, never wash the pressure cooker's lid in the dishwasher.
3. Maintaining the gasket
The gasket is responsible for sealing your pressure cooker. If it is worn out, you may notice leaks or unwanted steam which will prevent the proper buildup of pressure and affect the performance of the cooker. To maximize the performance of your pressure cooker, be sure to check and replace its gasket regularly (once per year in general, or more often if needed).
See our video "Sitram Tips - How to replace the gasket on your pressure cooker"
You can find gaskets at your local Sitram retailer, and with online retailers.
4. Maintaining the safety valve
Regularly check to make sure the valve is clean and the hole in the lid is not clogged.
See our Care Guide for more information on maintaining your pressure cooker.
You will find all our pressure cookers in most retail outlets, as well as in general or specialized stores on the Internet!
4
7 must-try pressure cooker recipes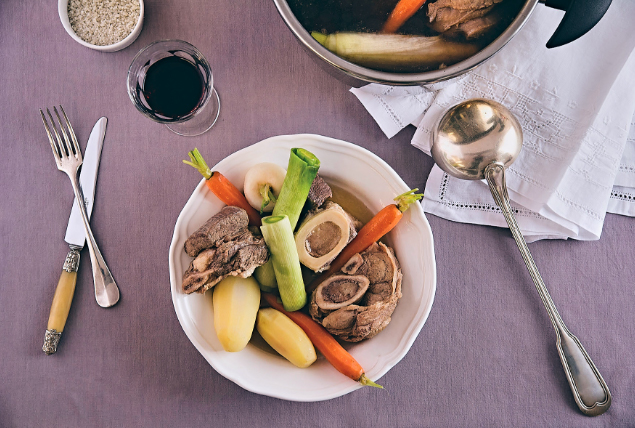 You can make hundreds of recipes with your pressure cooker. We've picked 7 that are sure to make your life easier:
1. BEEF BOURGUIGNON and its equivalents... With a pressure cooker, you can cook tender meats and tasty sauces in no time at all.
Find the recipe here!
2. CHILI CON CARNE
Luscious beans, mouthwatering meat, and delicious steamed rice...This dish is best enjoyed with friends!
3. POT-AU-FEU (French beef bouillon and stew)
Pressure cookers make this popular family meal both quick and easy.
Our recipe
4. ARTICHOKES
Tired of waiting for them to cook in a saucepan? Switch to a pressure cooker!
5. APPLE SAUCE
Ready in three easy steps!
7. CHOCOLATE FONDANT
Pour your batter into ramekins and bake in the steam basket. A real treat!
Our gluten-free recipe
Want to discover more delicious recipes that you can make with your Sitram pressure cooker? Visit our Recipes page.