POTS AND SAUCEPANS
MUST-HAVES FOR EVERY KITCHEN
Saucepans (and pots for larger quantities) are extremely versatile, and after frying pans, the most important cookware in your kitchen. Saucepans are ideal for cooking foods like pasta, rice, and vegetables in liquid or stock. They also let you make sauces, caramels, and recipes in your double boiler. Pots, on the other hand, are designed to cook larger quantities of food and built with two handles for easy maneuvering. Like saucepans, pots are wonderfully versatile and allow you to cook all kinds of different foods.
At Sitram, we offer a wide selection of pots and saucepans to make all your recipes easy.
We have a pot and saucepan for every purpose, whether you're cooking pasta, preparing a sauce, or making a yummy dessert.
On this page, we'll help you choose the pots and saucepans that are best suited to your cooking needs.
---
Pots and saucepans offered by Sitram
Aluminum, cast iron, or 100% stainless steel, for 2, 6, 8, or 10 people, with or without a detachable handle...Sitram has a full range of pots and saucepans to cater to the needs and preferences of all consumers:
100% stainless steel saucepans, non-stick saucepans, saucepans with removable handles, stainless steel pots, aluminum pots, pots with glass lids, pots with stainless steel lids.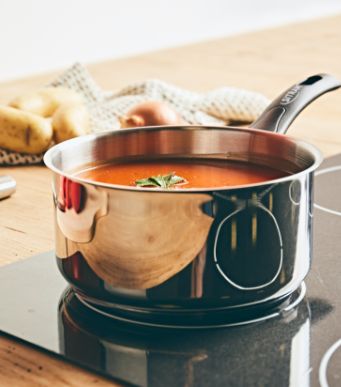 100% stainless steel saucepans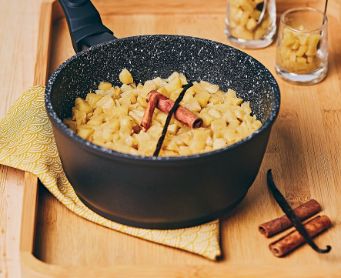 Non-stick
saucepans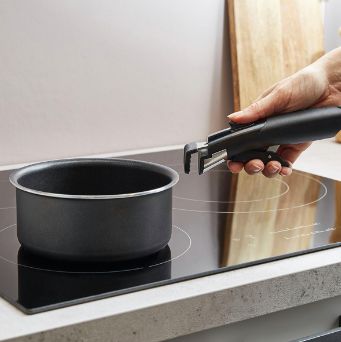 Saucepans with
removable handles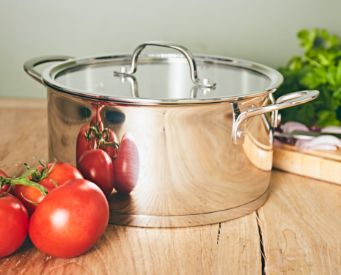 Stainless steel pots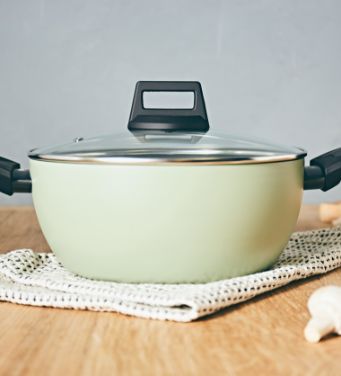 Aluminum
pots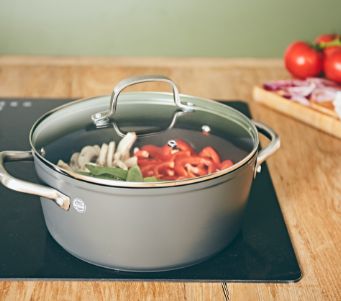 Pots with
glass lids
How do you choose a pot or saucepan?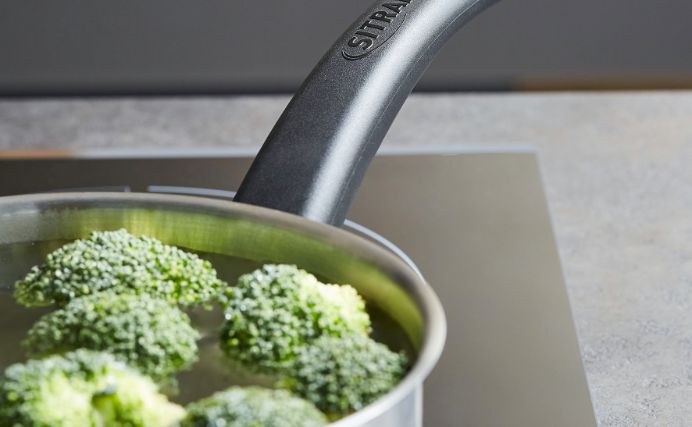 Thanks to their round and deep body, saucepans let you cook and stir preparations without overflowing or splashing. Their long handles make them easy to carry from the cooktop to the sink or dining table. Pots are even deeper, making them perfect for larger quantities. They are also easy to carry thanks to their pair of handles.
What kind of saucepan is best for you? Should you go for a large saucepan or a pot? Or maybe a Dutch oven? Below, we'll go over the various materials, volumes, handles, and lids to help you choose the cookware that best meets your needs.
Which material?
Pots and saucepans come in a variety of materials and are used for many purposes. Each material (copper, stainless steel, aluminum, cast iron) has its pros and cons. Before choosing a pot or saucepan, take some time to learn more about its composition (primary material of the body and lid, composition of the coating, etc.).
The primary material
The primary material: this is the material from which the pot or saucepan is molded. At Sitram, most of our cookware is made of stainless steel or pressed or cast aluminum. Each of these materials has its own characteristics (responsiveness to heat, use and care, durability, etc.). Another important factor is compatibility: before purchasing any cookware, make sure it is compatible with your cooktop (gas, electric, vitroceramic, halogen, induction).
Some of our pots and saucepans come with clear glass lids so you can keep an eye on your food while it is cooking.
The inner coating
Some of our cookware is done entirely in stainless steel, while other items have coatings on the bottom. Non-stick coatings make it easier to cook (as food doesn't stick) and require little to no fat (e.g., butter or oil) for cooking. They also make pots and pans easier to clean. Non-stick coatings are perfect for fragile or delicate foods which tend to break up during cooking.
Note: certain precautions must be taken when using non-stick coatings (no metal utensils, no cutting directly in the pan, etc.). Heating cookware while empty can also damage its non-stick coating. Finally, wait until your pan has cooled down before washing it (whenever possible, by hand instead of in the dishwasher).
All SITRAM coatings are guaranteed PFOA-free and safe for your health.
To learn more about coatings, please see our Coating Guide.
For how many
people?
For a student or a household of 2 people
An 18 cm saucepan is perfect for a student or a family of 2. Smaller households may also wish to invest in a pot, which will come in handy when having people over for a pasta party!
For a family of 4
Opt for 2 saucepans (16 and 20 cm), as well as a pot for pasta, which needs to be cooked in a large amount of water. A smaller saucepan can also be useful for heating milk, melting butter, or making a béchamel sauce.
For those who love to cook
and try out new recipes, and those who love to entertain, a complete set of 3 or 4 saucepans will be ideal. From S to XL, these saucepans will go perfectly with a large pot and several matching lids.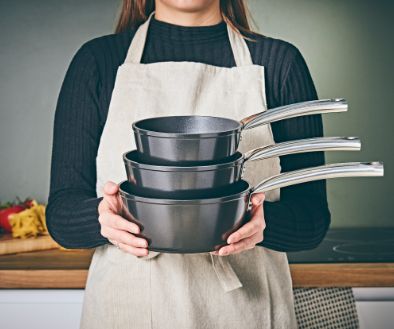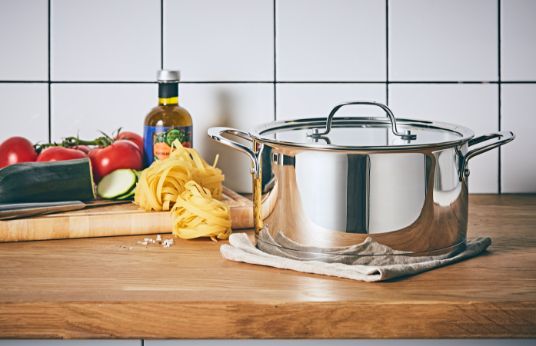 Our pots and saucepans come in a variety of sizes and volumes. Before choosing your cookware, think about how many people you usually cook for on a daily basis. Among other things, the choice of size depends on the composition of your household. Larger families will of course need bigger cookware.
For a household of 2 to 3 people, a 1.5 to 2-liter saucepan will usually suffice for preparing moderate amounts of food. For those of us who love to cook or regularly entertain guests, our 2.5 to 3-liter saucepans are a better bet.
Discover all our tips on diameters, materials, and care and use here.
How much space do you have?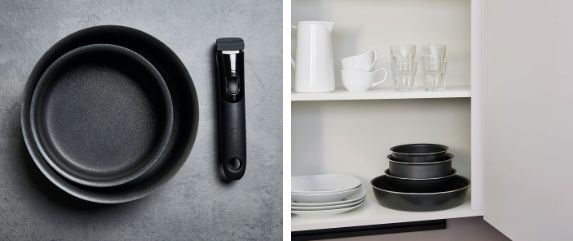 If you have a tiny kitchen...
You'll want to save as much space in your cupboards as possible. Some of our saucepans are sold with detachable handles. These handles let you stack your cookware and thereby save precious space. You can even use this cookware in the oven without the handle. And it's much easier to clean!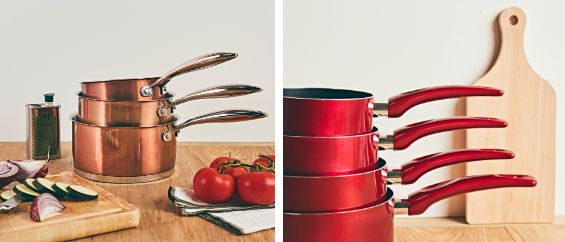 If you have a spacious kitchen...
You're in luck as you can choose from a wider selection of pots and saucepans! Colors, details, curved and metallic finishes...our pots and saucepans really make an impression!
What do you like to cook?
Before choosing a saucepan, think about the foods you like to cook:

Do you cook soups, rice, boiled potatoes, or plain broccoli?
Robust and easy to clean, traditional stainless steel saucepans will be perfect for you.
You love to make cakes, sauces, and coulis?
Choose saucepans with pour spouts (rather than straight edges). Even better, Sitram offers models with spouts on both sides for righties as well as lefties.
You use your pots and pans to roast and braise meat or vegetables? Or to make risottos?
Choose non-stick cookware that can be cleaned with a simple wipe of a sponge.
You love pasta (especially spaghetti and tagliatelle al dente)?
A pot is definitely for you! Choose a large-volume-pot : the bigger the size, the more the pasta will "dance" in the water and the better it will cook!