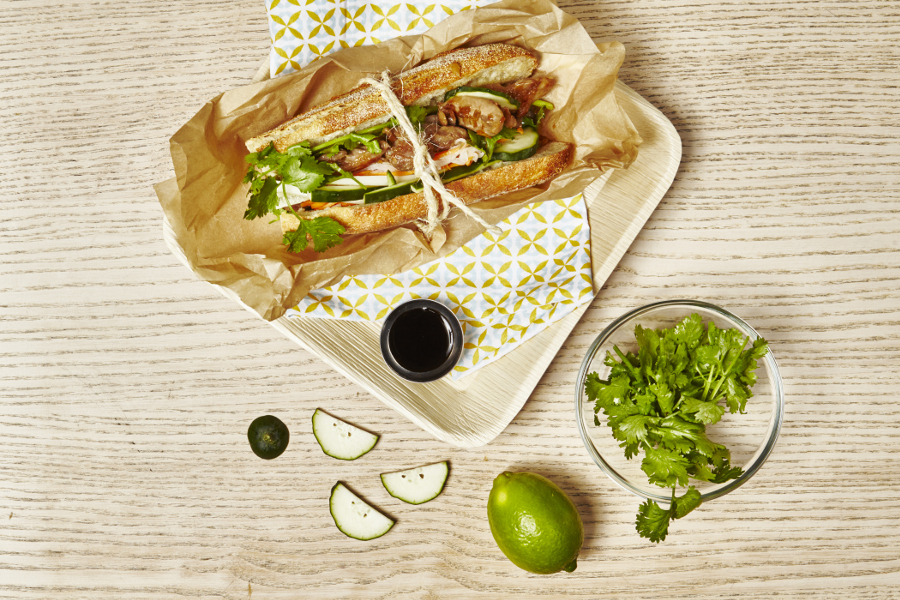 BÁNH MÌ with chicken
Savory recipes
Spring
Summer
Fall
Winter
1+ hour
Easy
Poêle
Prep time
1 hour + 1 night of set aside time
Method
The day before: Put the carrots and radish in a large bowl and sprinkle with a teaspoon of fine salt and a tablespoon of sugar.
Knead with your hands for two minutes.
Add the vegetables to a bowl with the slices of lemon.
Pour in the 100 ml (2/5 cup) of white vinegar and the 5 cl (1/5 cup) of rice vinegar.
Add 15 cl (3/5 cup) of hot water and let marinate for at least one night in the refrigerator.
This preparation will keep for 4 weeks in the refrigerator.
Flatten the chicken with a meat tenderizer, then cut it into strips.
In a large bowl, mix the lemongrass, sugar, shallots, nuoc-mâm sauce, soy sauce, sesame oil, rapeseed oil, garlic, and pepper.
Add the chicken and coat it completely with the mixture.
Cover and refrigerate overnight.
On the day you wish to serve the recipe, pour the chicken and the marinade into a cold frying pan.
Cook for 10 minutes over medium heat, stirring regularly.
Cut the baguettes in half lengthwise, then spread some Sriracha sauce on the insides of each half.
Once the chicken mixture is cooked, top the baguettes with the mixture and vegetables.
Sprinkle with Thai chili (optional).
Finally, garnish with fresh cilantro and a few slices of Lebanese cucumber.
Ingredients
2 large carrots, peeled and julienned
1 daikon (white radish), peeled and julienned
1 lime cut into thin slices
1 tsp fine salt
1 tbsp sugar
100 ml (2/5 cup) white vinegar
5 cl (1/5 cup) rice vinegar
15 cl (3/5 cup) hot water
4 boneless chicken thighs
1 tbsp fresh lemongrass, finely chopped
1 tbsp sugar
1 shallot, cut into thin strips
1 tbsp nuoc-mâm sauce
1 tbsp soy sauce
1 tbsp sesame oil
1 tbsp vegetable oil
2 pressed garlic cloves
Freshly ground black pepper
3 tbsp Sriracha sauce
1 finely chopped Thai pepper (optional)
1/2 Lebanese cucumber, cut into very thin slices
1/2 bunch of fresh cilantro (with stems)
2 French baguettes
Utensil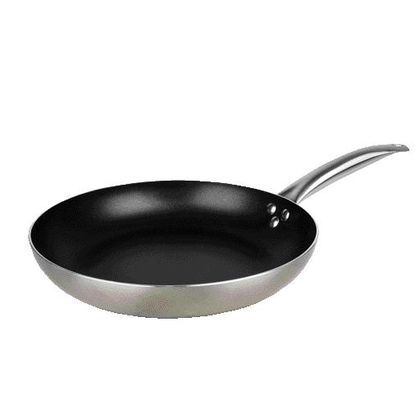 The benefits of cooking with a frying pan
With its round and shallow shape, this versatile utensil allows you to cook to your taste a variety of foods, from steaks to whole fish, burgers, meatballs, and all sorts of sauteed vegetables, pasta or cereals.
Other recipes for you
Here are some recipes you might also like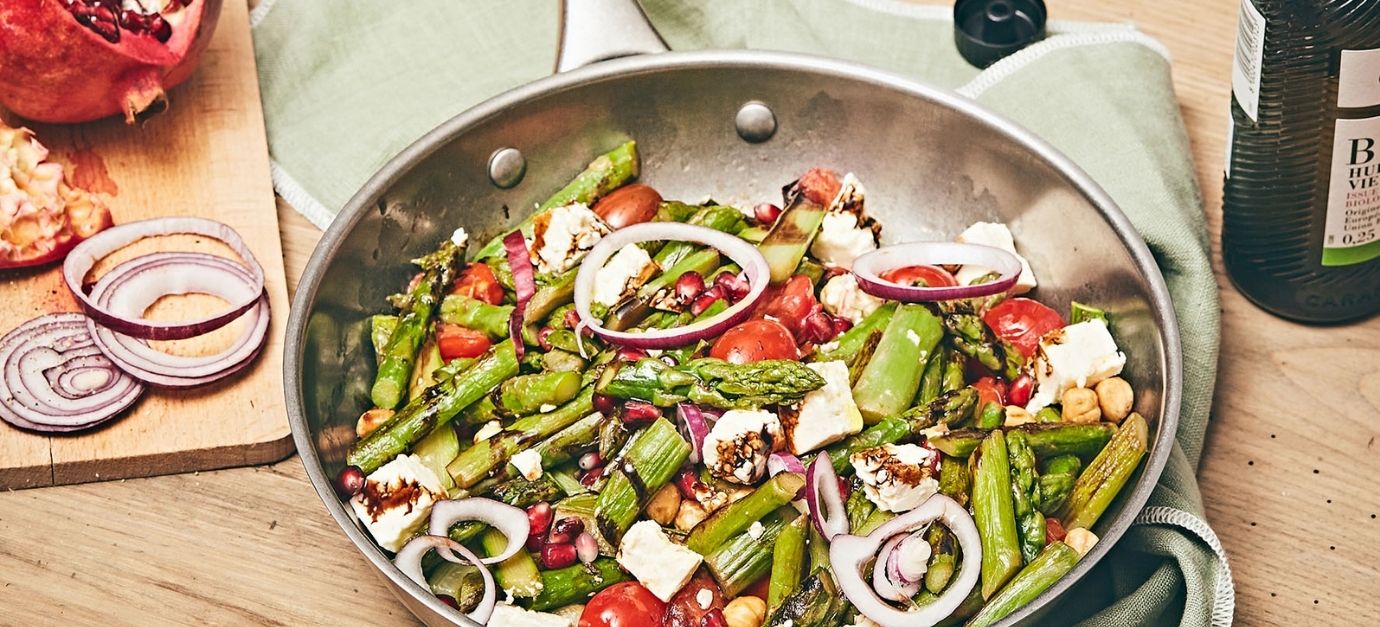 Sautéed asparagus salad with hazelnuts, feta cheese, pomegranate,…
A gourmet salad with a crunch!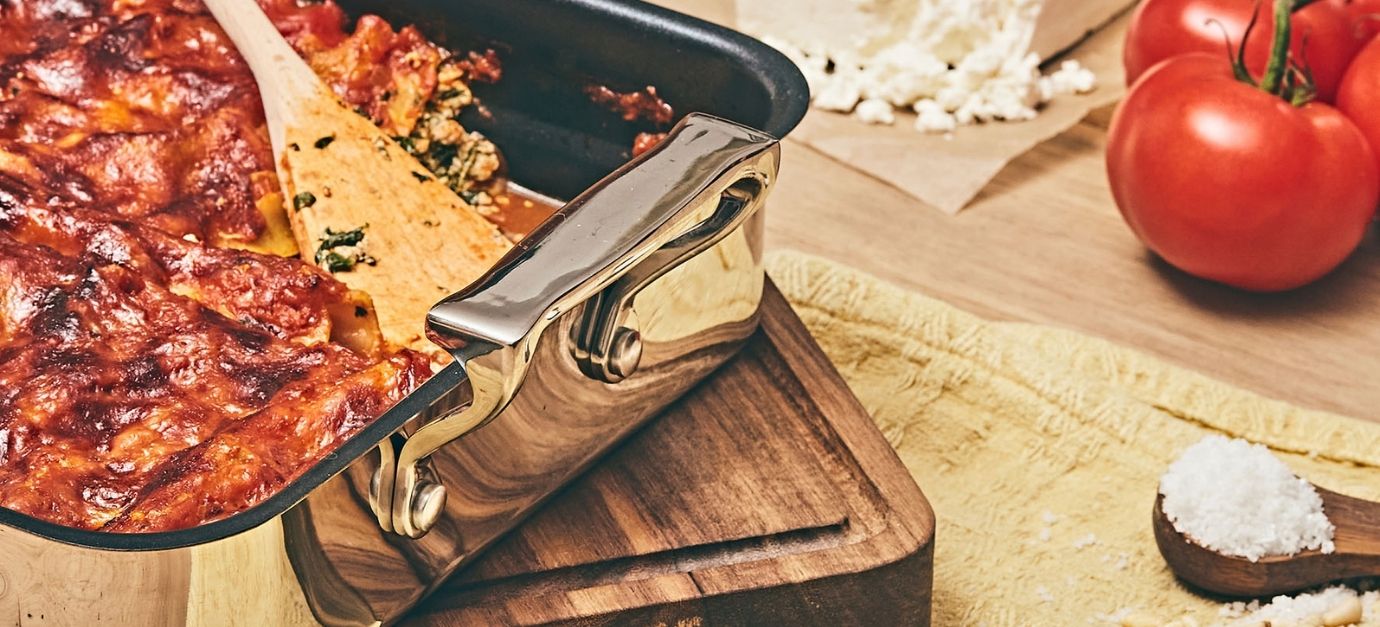 Cannelloni au gratin with veal, spinach, feta, and ricotta
The perfect recipe for cozy evenings!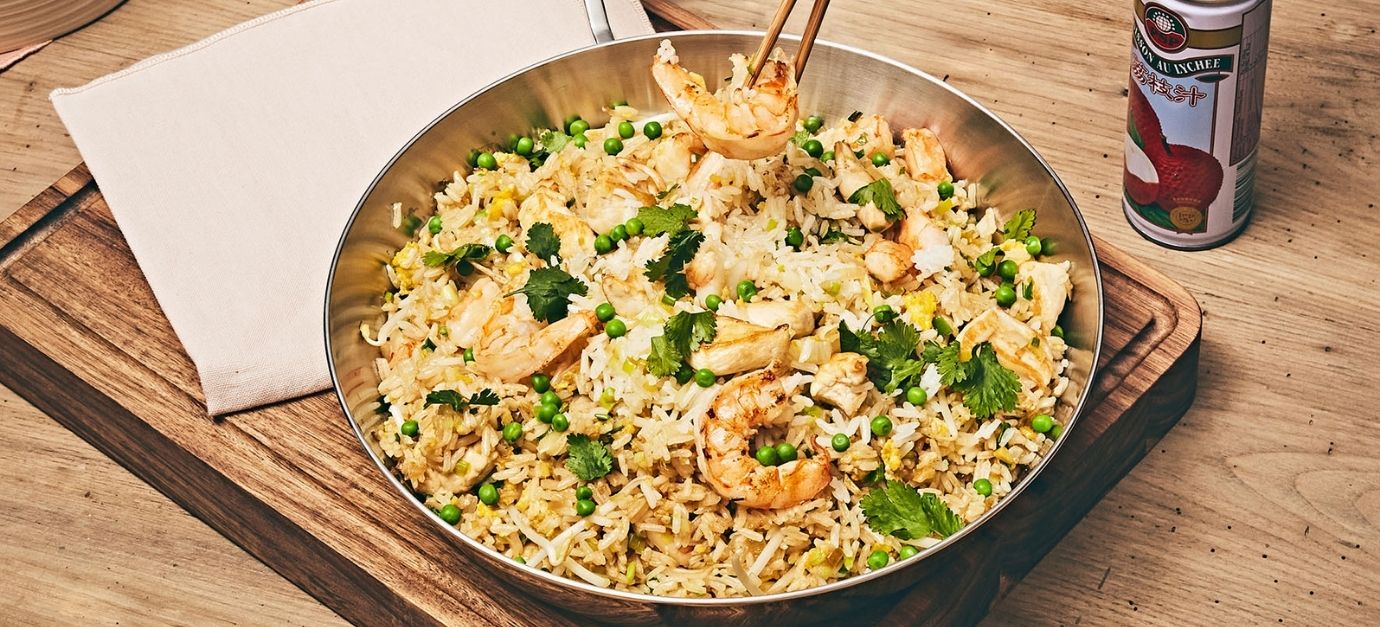 Cantonese rice with shrimp and chicken
A delicious recipe to share!