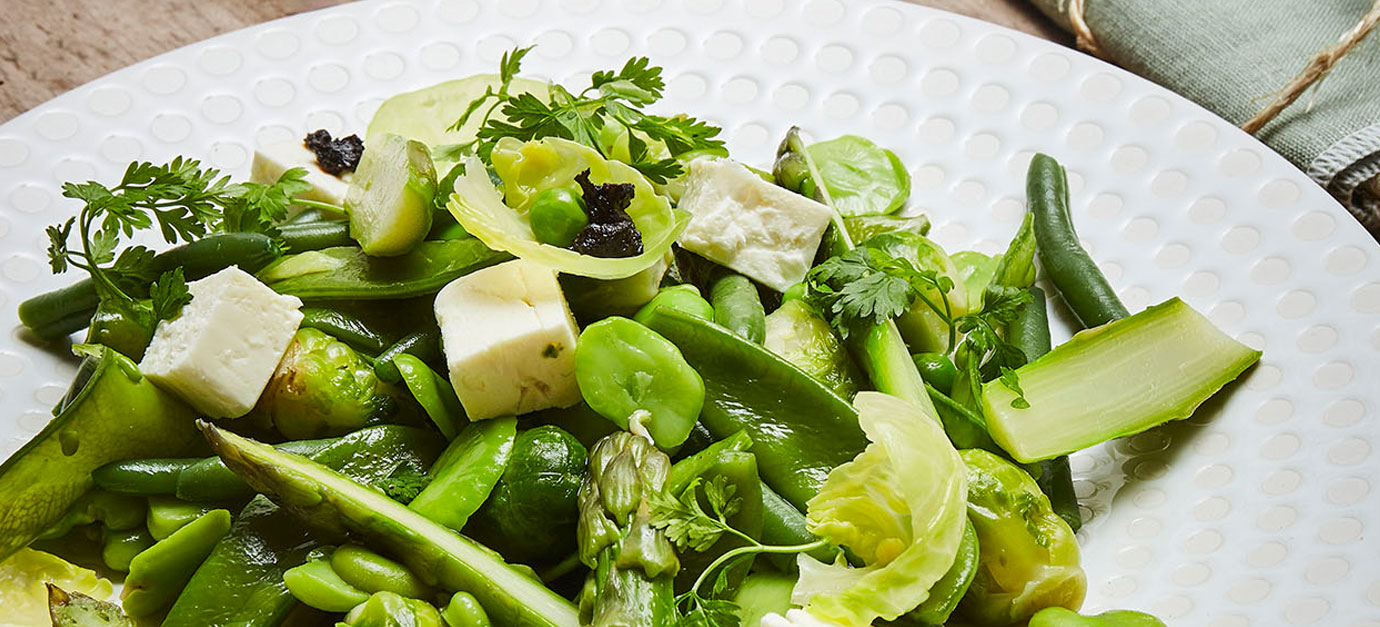 Stir-fried green vegetables with ginger butter and black garlic mousse
Savory recipes
Spring
Summer
30 minutes to 1 hour
Végétarienne
Medium difficulty
Poêle
Method
Blend the black garlic cloves with the milk and cream, season with salt and pepper. Strain and chill.
Peel and grate the ginger.
Boil 5 cl (1/5 cup) of water in a saucepan, add the ginger, and boil for 5 minutes.
Remove from the heat, then add the lemon juice and the butter (in small pieces). Season as needed.
Add the snow peas, fava beans, green beans, and peas to a large pot of salted boiling water, then immerse them in ice water once they are cooked.
Coat the vegetables with the lemon & ginger butter.
Heat the black garlic mixture then blend it with a hand blender until it turns into a mousse.
Reheat the vegetables in a frying pan over low heat with a drizzle of oil.
Arrange the vegetables on a plate with the garlic mousse and sprinkle with fresh herbs.
Top with a few cubes of feta cheese for an extra touch of freshness.
Enjoy!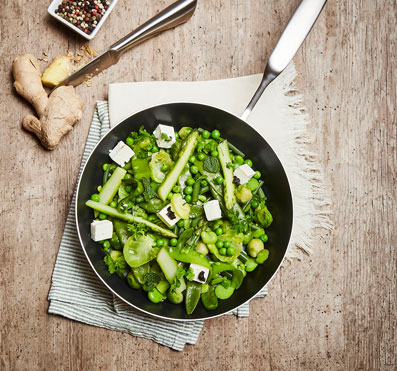 Ingredients
250 g (9 oz) fava beans
250 g (9 oz) fresh peas
150 g (5.3 oz) snow peas
150 g (5.3 oz) fresh green beans
1 bunch of spring onions
1 piece of fresh ginger (2 cm or a little less than an inch)
120 g (1/2 cup) butter
1 bunch of parsley
Feta
Salt, pepper
Black garlic mousse:
3 cloves of black garlic
30 cl (1 and 1/4 cups) milk
10 cl (2/5 cup) liquid cream
 
Utensil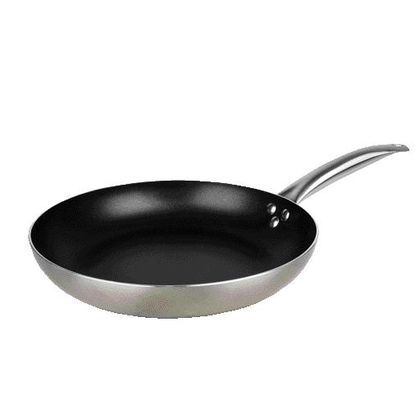 The benefits of cooking with a frying pan
With its round and shallow shape, this versatile utensil allows you to cook to your taste a variety of foods, from steaks to whole fish, burgers, meatballs, and all sorts of sauteed vegetables, pasta or cereals.
Other recipes for you
Here are some recipes you might also like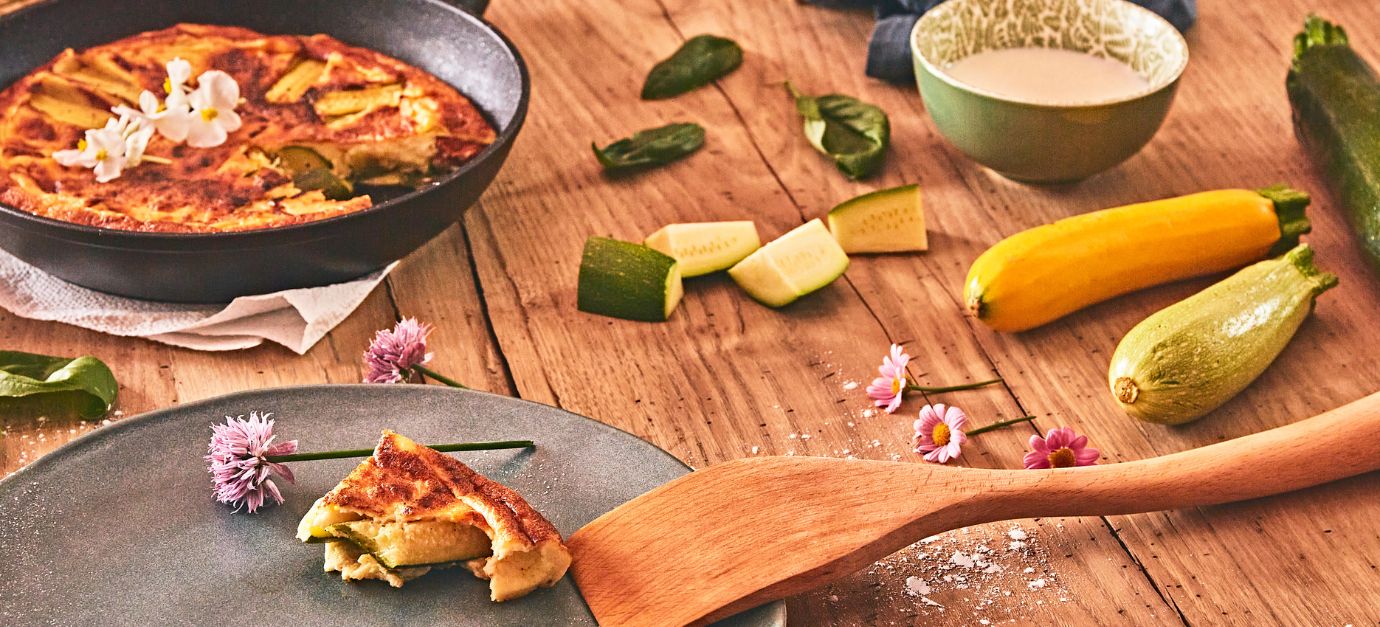 Pan-fried zucchini clafoutis
Easy, no-bake zucchini clafoutis.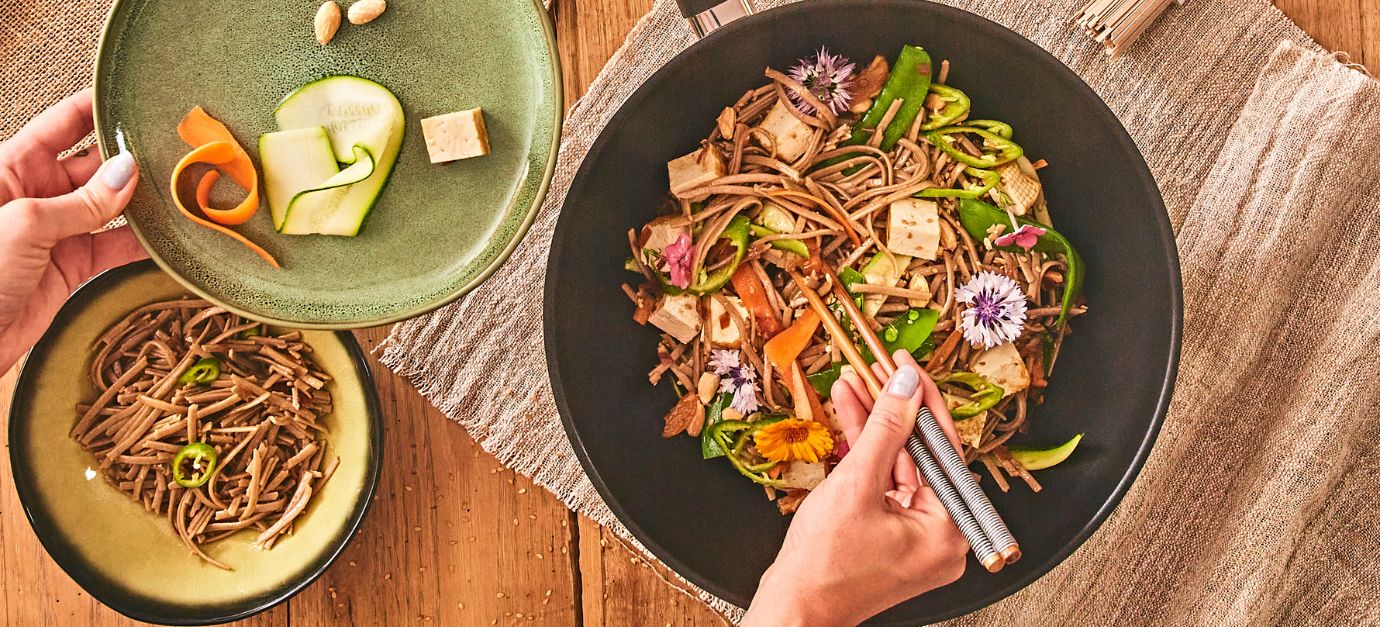 Soba noodle salad with grilled tofu
A colorful vegetarian salad with soba noodles, seasonal vegetable…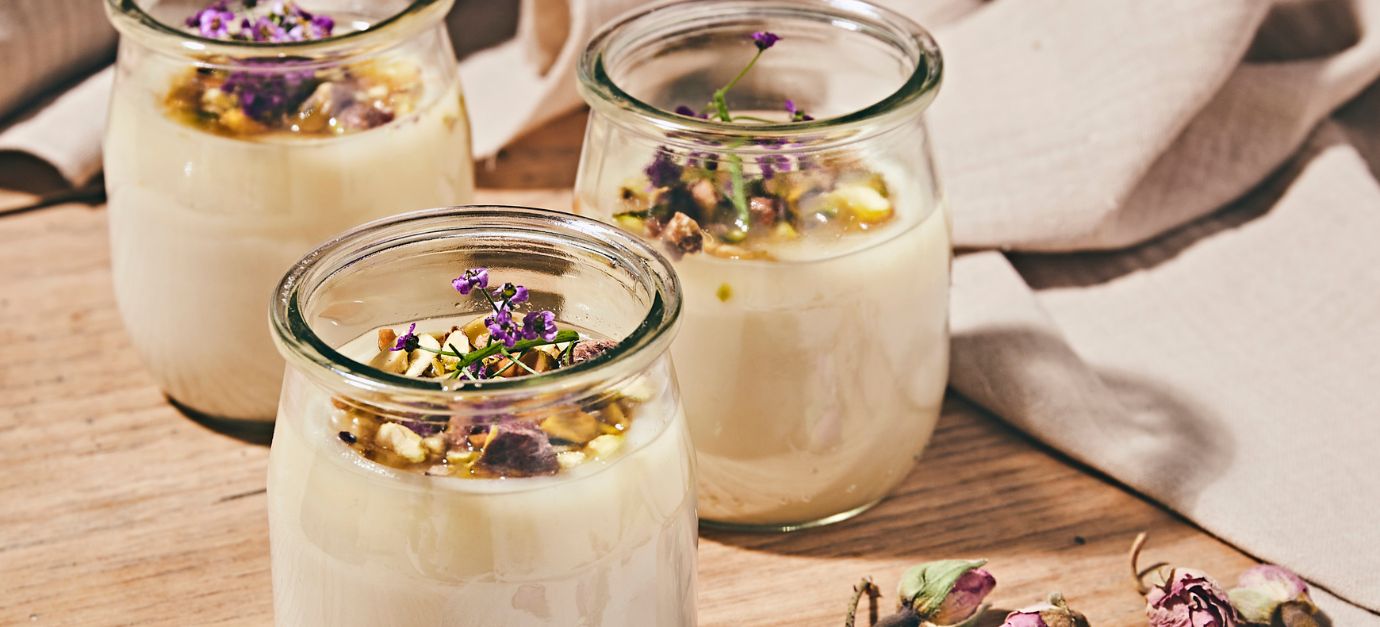 Delicious Lebanese flan with hints of pistachio and orange blosso…