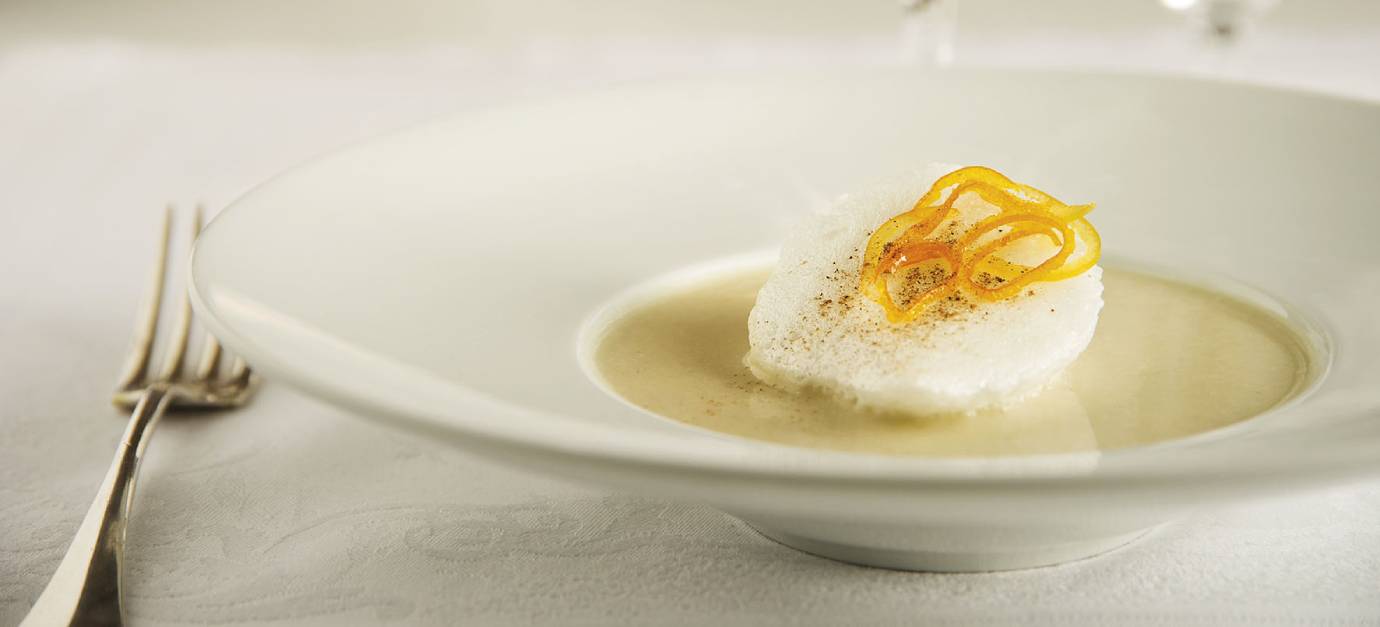 Endive and orange floating islands
Savory recipes
Spring
Summer
Fall
Winter
Under 30 minutes
Végétarienne
Expert
Autocuiseur
Method
CITRUS CONFIT 
Cut the zest of the citrus fruits into extremely thin strips.
Bring 50 cl (2 cups) of water to a boil with 250 g (2 cups) of sugar
Chop the onion finely, then sweat in olive oil.
Add the onions and zests to the sugar and water mixture and cook gently for 20 minutes until they turn to confit.
ENDIVE VELOUTE
Peel and chop the onion
Remove the outer leaves from the endives and use a sharp knife to cut out the bottom of the cores. Chop the remaining leaves and drizzle them with the juice of a lemon.
Heat the duck fat in the pressure cooker, then sweat the onion and endives. Add the sugar then pour in the stock.
Close the lid with the regulator and heat the cooker . When the steam starts to escape, lower the heat and cook for 15 minutes.
Remove the pressure cooker from the heat. Depressurize before opening.
Add the cream, close the lid with the regulator and let cook for another 5 minutes.
Use a blender or mortar to grind the porcini mushrooms into a powder.
Whip the egg whites until stiff, then mix in some of the porcini powder.
Use two soup spoons to create 6 quenelles (egg-shaped dumplings). Poach them in a pot of boiling water for 5 minutes, turning them over after 2 and 1/2 minutes. Use a skimmer to remove and place the dumplings on a cloth.
Remove the pressure cooker from the heat. Depressurize before opening, then blend the contents of the cooker.
Season as needed
Serve the creamy soup in a soup plate with a floating island, and a small spoonful of the citrus confit. Sprinkle the egg whites with a little porcini powder.
Ingredients
For the soup
6 endives
1 large onion
10 cl (2/5 cup) dry white wine
75 cl (3 cups) chicken stock
10 cl (2/5 cup) heavy cream
1 tbsp duck fat or olive oil
1 pinch of Espelette pepper
2 pinches of sugar
1 lemon
Salt, pepper
3 egg whites
5 g (0.2 oz) dried porcini mushrooms
For the citrus confit
¼ of a grapefruit peel
¼ of an orange peel
1 white onion
250 g (9 oz) powdered sugar
1 tbsp olive oil
Utensil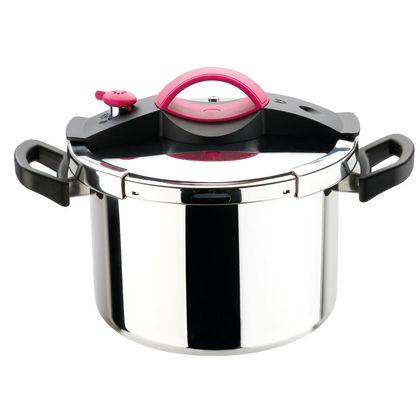 Why use a pressure cooker?
It's the perfect utensil for the busy and efficient cook. Thanks to its amazing speed you will save precious time for other activities...
Other recipes for you
Here are some recipes you might also like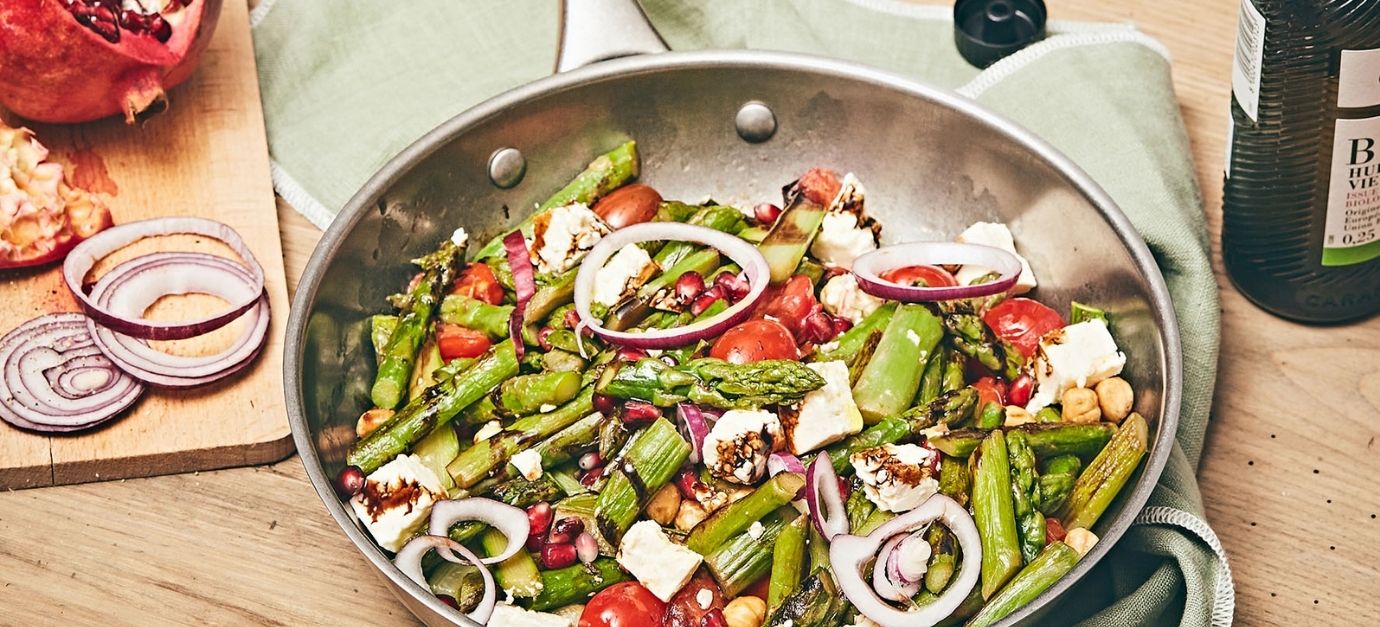 Sautéed asparagus salad with hazelnuts, feta cheese, pomegranate,…
A gourmet salad with a crunch!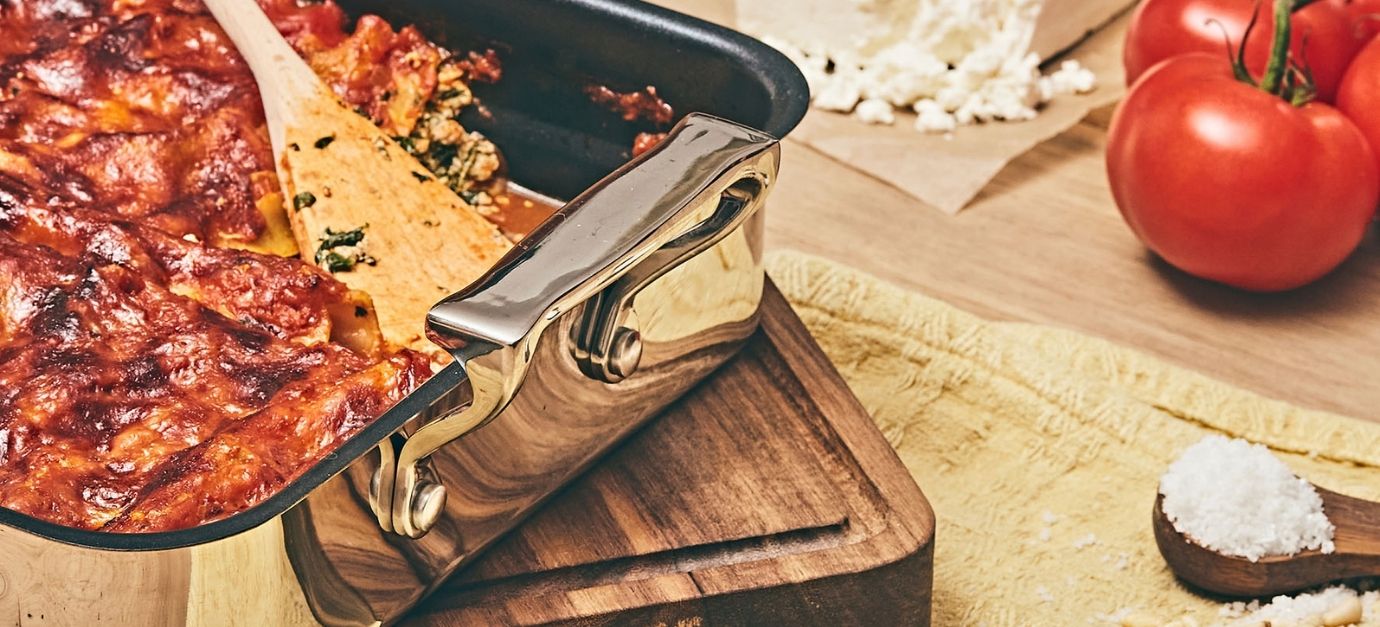 Cannelloni au gratin with veal, spinach, feta, and ricotta
The perfect recipe for cozy evenings!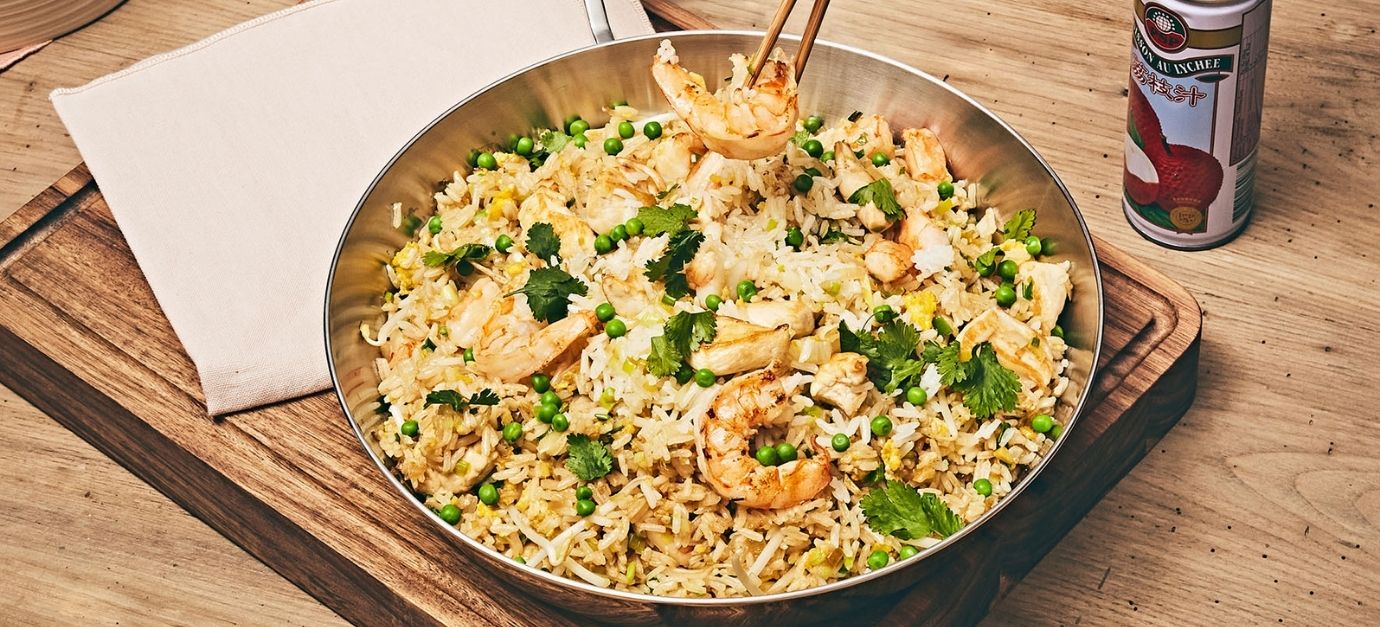 Cantonese rice with shrimp and chicken
A delicious recipe to share!