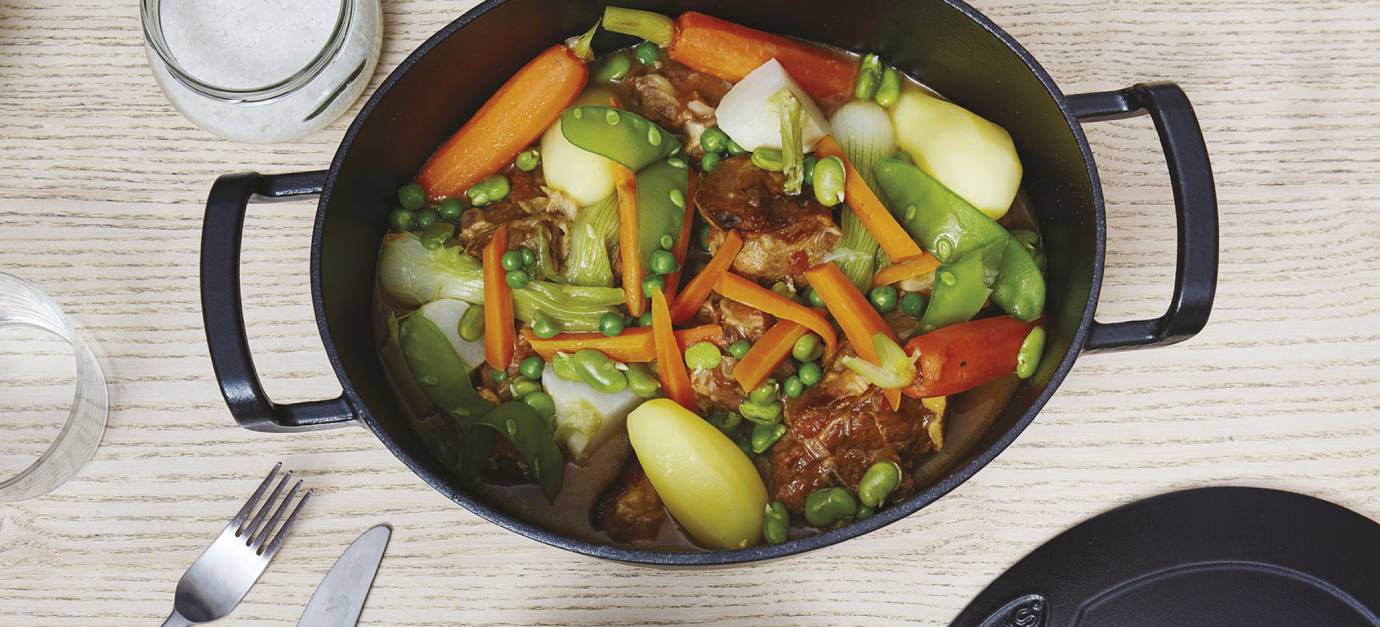 Navarin of lamb in a Dutch oven
Savory recipes
Spring
1+ hour
Easy
Casserole
Cocotte en fonte
Method
Brown the lamb in some fat (half butter, half oil) over high heat in your cast iron Dutch oven
Peel, wash, and chop the large onions, crush the garlic, and make the bouquet garni
Add the lamb, then add and sweat the onions and garlic
Toast the flour in a hot oven for 4 to 5 minutes until golden brown
Coat the lamb pieces with the flour
Drench with around 2 liters (8 cups) of water or veal stock (3/4 cm above the meat)
Add the bouquet garni and the 50 g (1.8 oz) of crushed tomatoes, then season
Bring to a boil, cover, then cook in the oven at 100°C (212°F) for 2 hours and 30 minutes (for more tender meat) or at 180°C (356°F) for 40 minutes
Prepare the vegetables (carrots, turnips, potatoes, and baby onions) : 
Cut the carrots and turnips into small sticks and glaze
Blanch the potatoes (without cooling)
Cook the peas, green beans, asparagus, and fava beans in salted boiling water, then plunge them in ice water (cook each vegetable separately as they require different cooking times)
Remove the lamb from the cast iron Dutch oven, make sure the sauce is thick, then add the potatoes. Season as needed, cover, and cook for another 15 to 20 minutes
Add the lamb, onions, turnips, well-drained carrots, and warmed green vegetables to the cast iron Dutch oven. Serve and enjoy!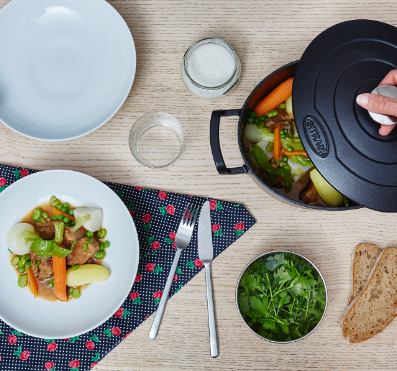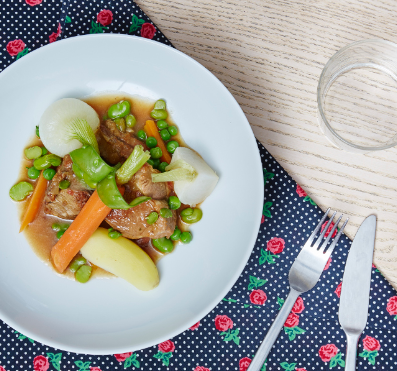 Ingredients
1.2 kg (2.6 lbs) lamb shoulder or neck, cut into small pieces
500 g (17.6 oz) carrots
100 g (3.5 oz) green beans
100 g (3.5 oz) green asparagus
100 g (3.5 oz) small shelled fava beans
100 g (3.5 oz) small hulled peas
40 g (1.4 oz) garlic
500 g (17.6 oz) turnips
150 g (5.3 oz) large onions
250 g (9 oz) baby onions
750 g (26.5 oz) potatoes
1 bouquet garni (parsley, thyme, bay leaf)
50 g (3 and 1/2 tbsp) butter
50 g (1.8 oz) flour
50 g (1.8 oz) crushed tomatoes
Salt, pepper, sugar
Utensils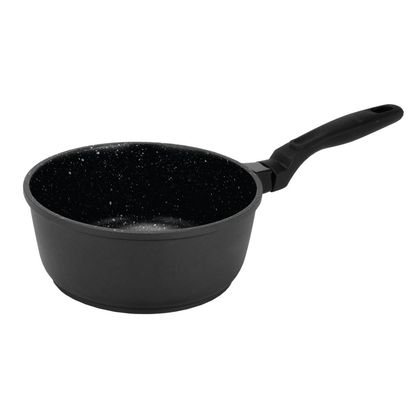 Why use a saucepan?
Sitram saucepans are versatile utensils fit for many preparations (soups, pasta, rice and sauces to name a few)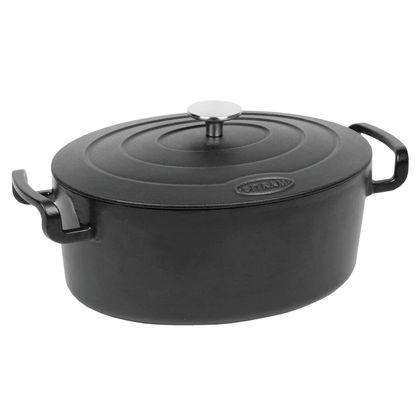 Why cook in a Dutch Oven?
Dutch ovens are ideal for slow cooked, simmered dishes. You can use the in the oven as well as the stovetop, and they will keep your meal warm when served at table.
Other recipes for you
Here are some recipes you might also like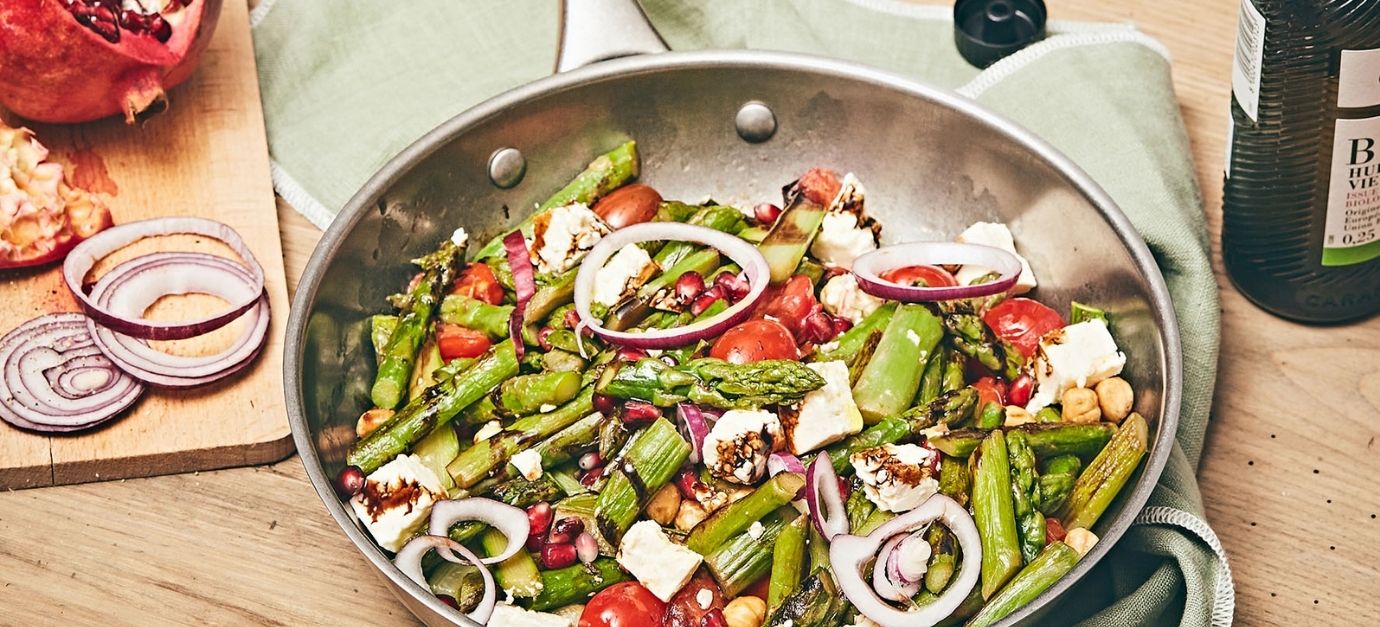 Sautéed asparagus salad with hazelnuts, feta cheese, pomegranate,…
A gourmet salad with a crunch!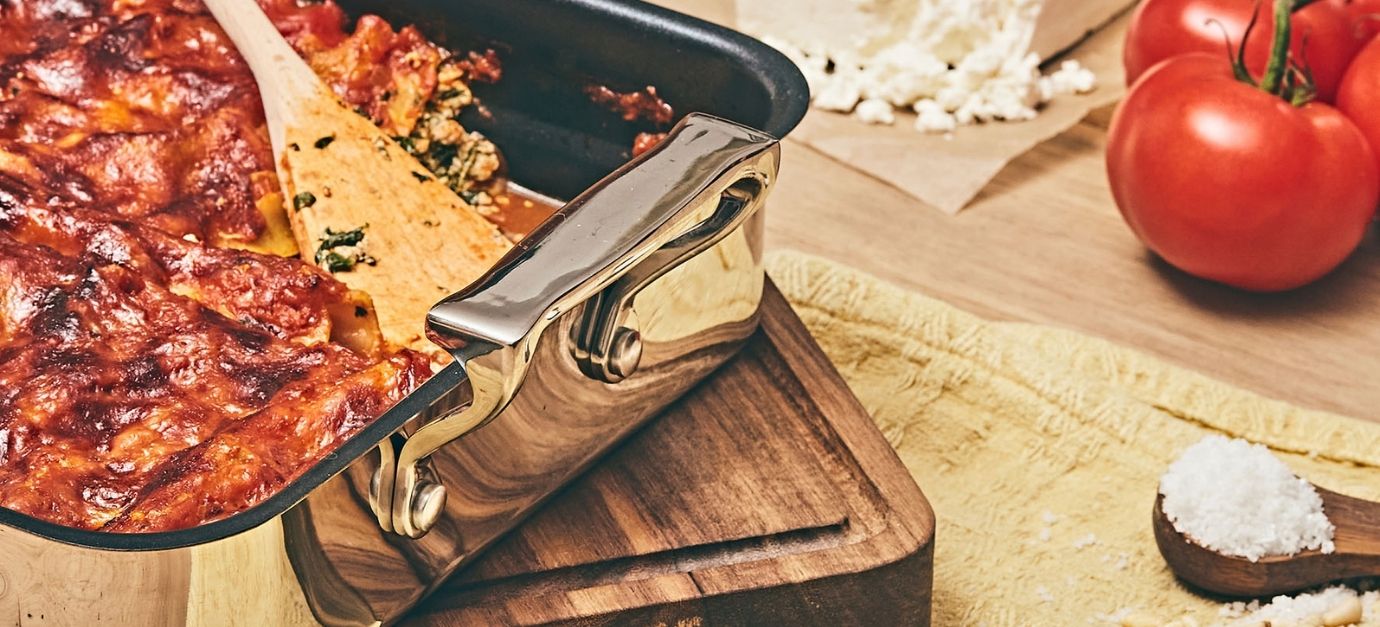 Cannelloni au gratin with veal, spinach, feta, and ricotta
The perfect recipe for cozy evenings!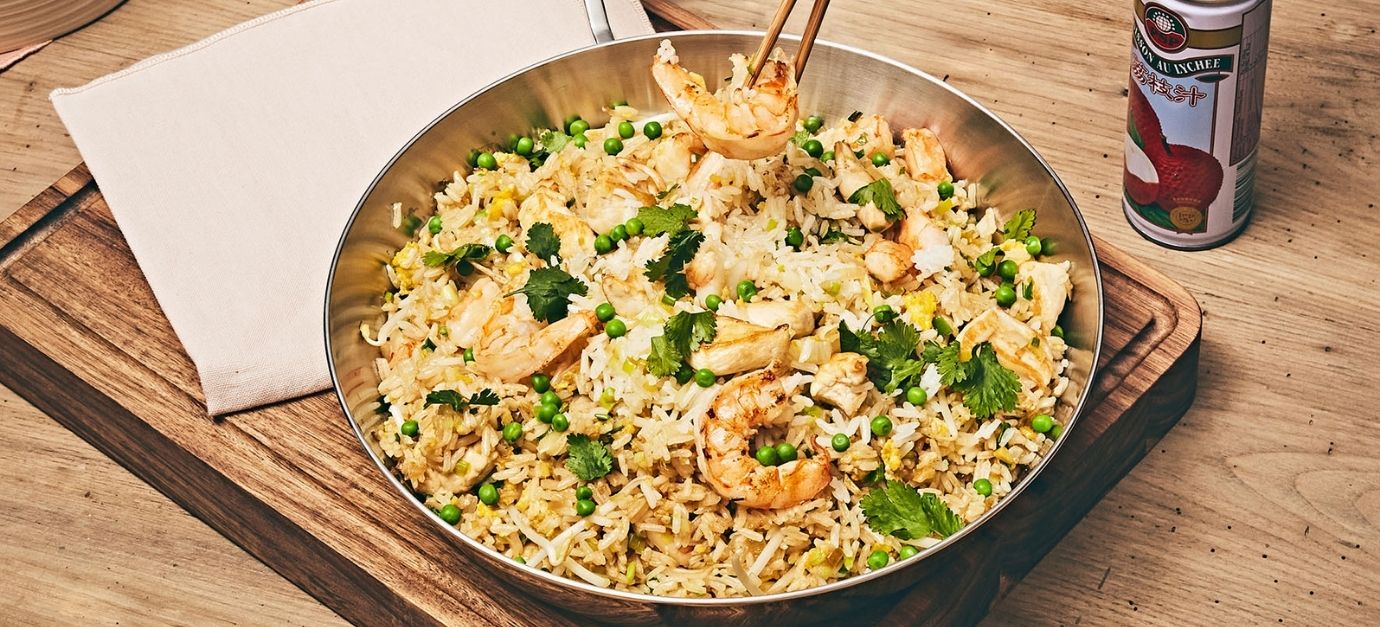 Cantonese rice with shrimp and chicken
A delicious recipe to share!