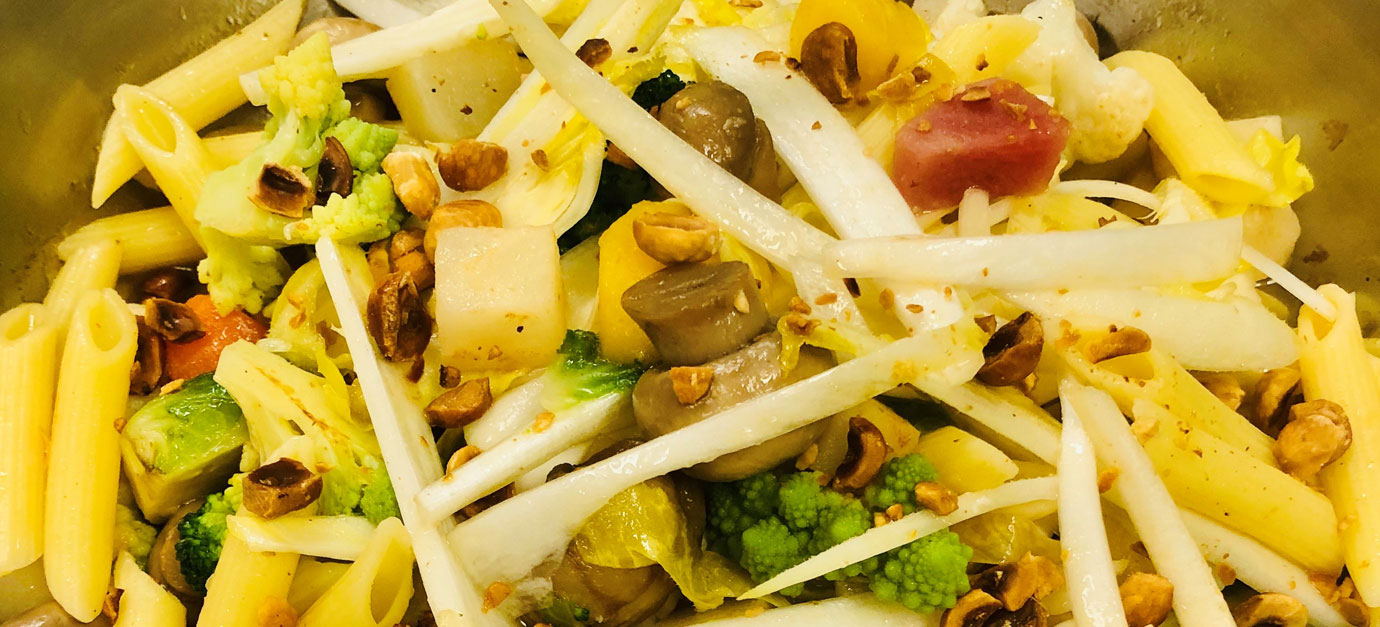 Sautéed seasonal vegetables, penne al dente, soy sauce, hazelnuts, tarragon, and Parmesan cheese
Recettes salées
Printemps
Été
Automne
Hiver
Entre 30 minutes et 1 heure
Recette de Chef
Végétarienne
Difficulté moyenne
Wok
Method
Heat a heaping tablespoon of olive oil in a stainless steel wok.
Briskly sauté the carrots, zucchini, Romanesco broccoli, mushrooms, and penne for 2 to 3 minutes. 
Mix the hazelnuts, tarragon, Parmesan, tomatoes, pears, radishes, and endive in a bowl. Season with salt, pepper, olive oil, and soy sauce.
After the 3 minutes of cooking, pour the bowl of vegetables into your wok and sauté for 1 minute over high heat.
Season as needed and serve.
This reciped is signed by Chef Yves Camdeborde.
Chef's tips:
This vegetarian dish is extremely fresh and flavorful thanks to its raw vegetables.
Feel free to add some peeled shrimp for more consistency. The shrimp should be added in the beginning, at the same time as the penne.
 
Ingredients
200 g (7 oz) penne pasta cooked al dente
100 g (3.5 oz) Romanesco broccoli washed and cut into pieces
1 carrot (washed, peeled, and sliced)
1 zucchini (washed and cut into cubes)
1 endive cut into sticks
8 cherry tomatoes cut in halves
4 black radishes (peeled and sliced)
1 pear cut into small cubes
40 g (1.4 oz) button mushrooms (washed)
20 g (1/4 cup) shaved Parmesan cheese
30 g (1 oz) roasted hazelnuts
1 tbsp tarragon leaves
Salt, pepper, olive oil, soy sauce
Utensil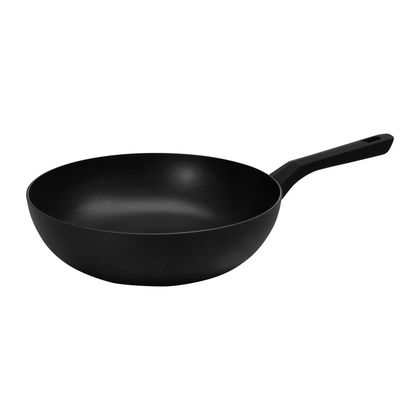 Why use a wok?
This wide and deep pan is used in asian countries to cook food quicky on a high fire. Finely chopped vegetables and meats, asian noodles and fried rice are particularly well-suited to this utensil.
Other recipes for you
Here are some recipes you might also like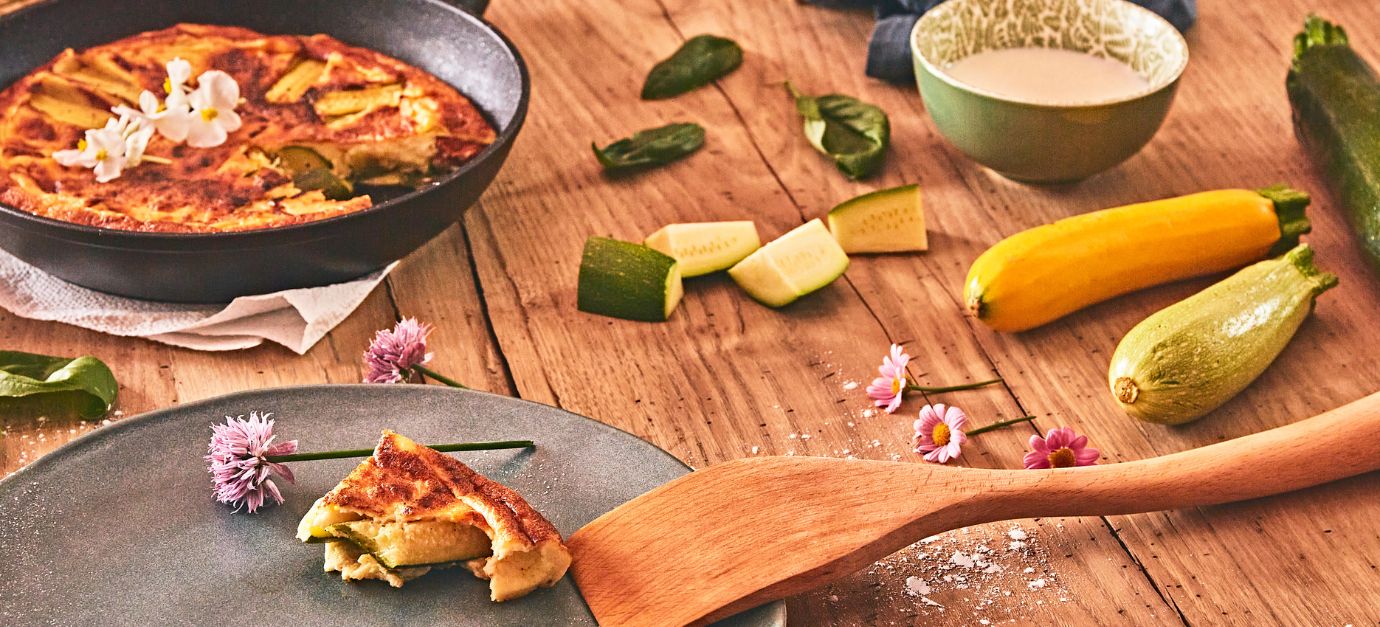 Pan-fried zucchini clafoutis
Easy, no-bake zucchini clafoutis.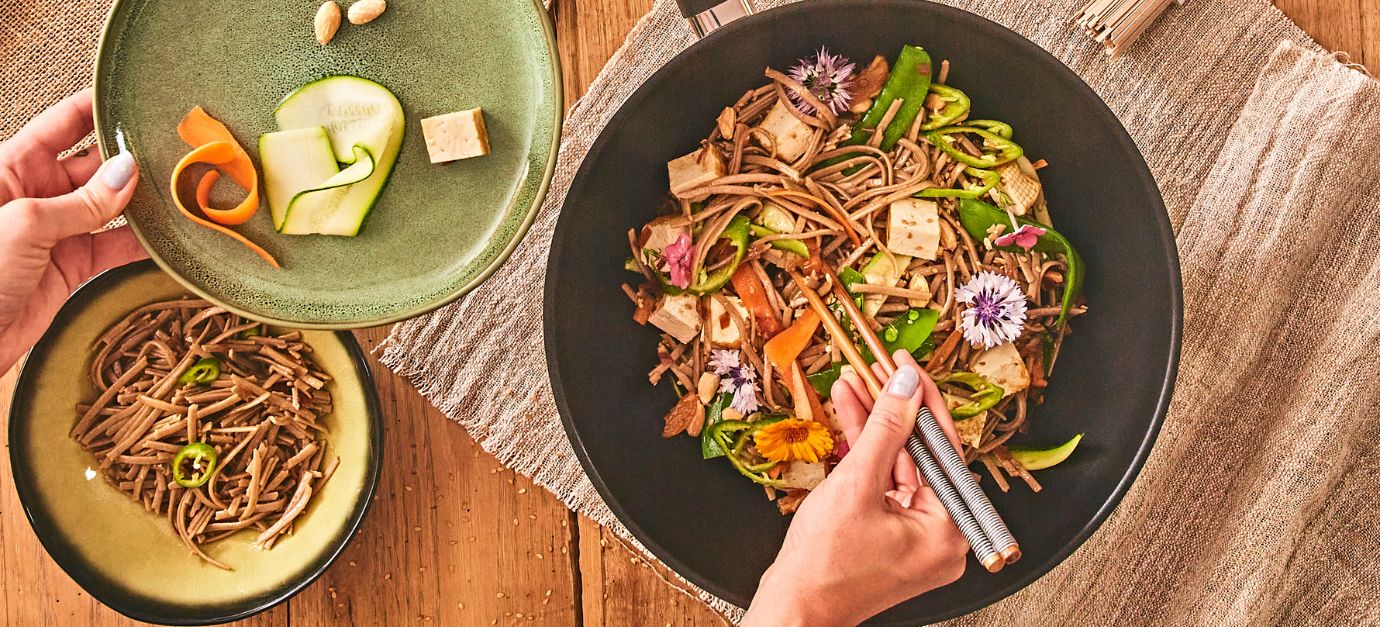 Soba noodle salad with grilled tofu
A colorful vegetarian salad with soba noodles, seasonal vegetable…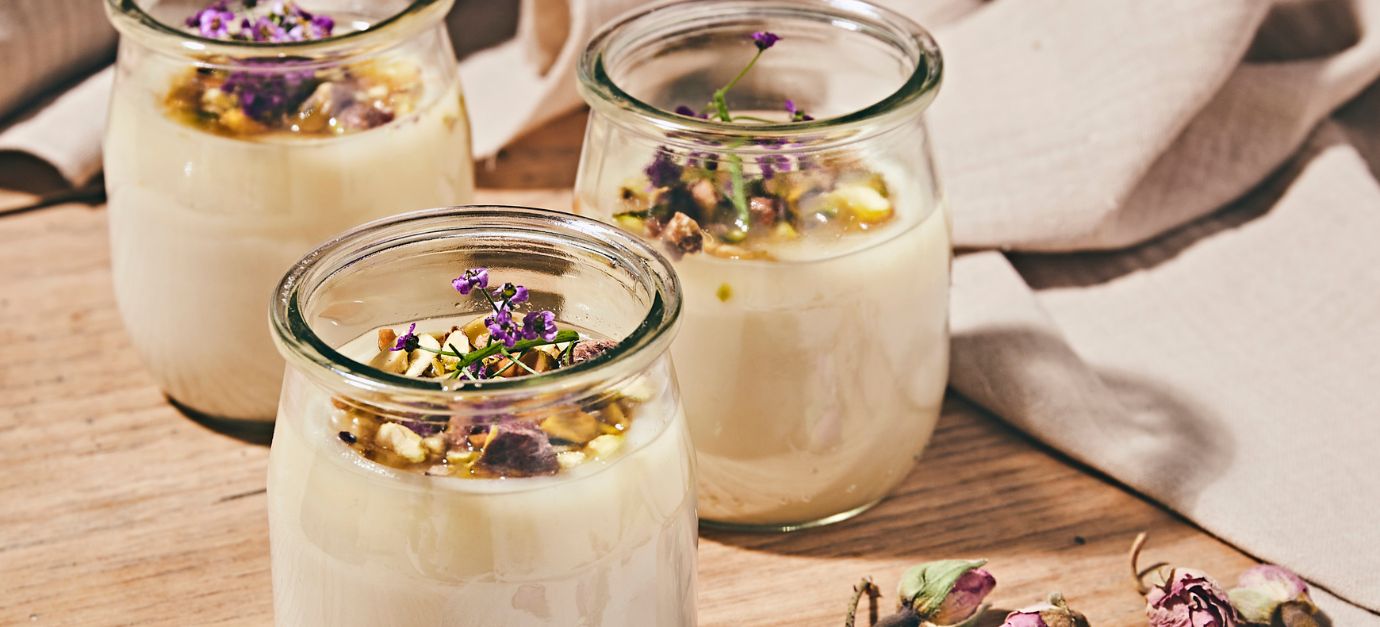 Delicious Lebanese flan with hints of pistachio and orange blosso…