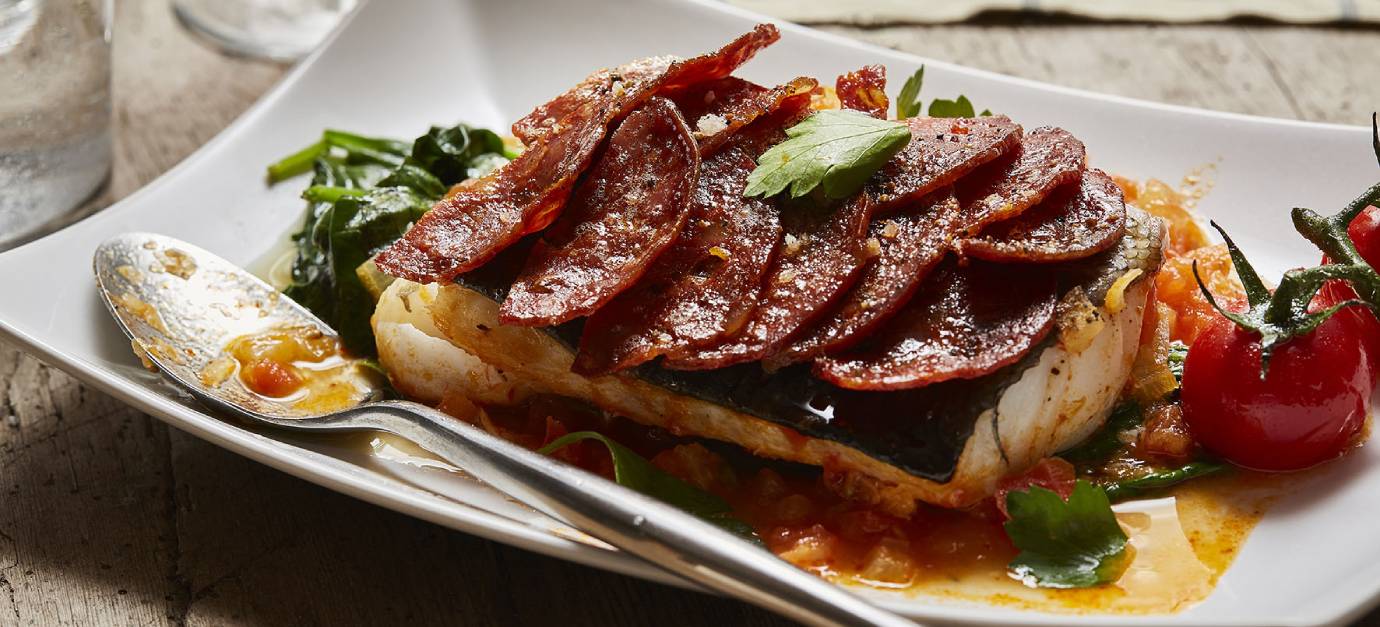 Cod fillet with chorizo scales
Savory recipes
Spring
Summer
Fall
Winter
1+ hour
Recette de fête
Medium difficulty
Poêle
Prep time
15 minutes + 25 minutes for the marinade
Method
Peel then cut the chorizo into thin slices.
Mix the olive oil, salt, and chili powder.
Cut the cod into four 100 g (3.5 oz) pieces.
Brine the fillets (with 100 g (3.5 oz) of salt and 10 g (1 tbsp) of sugar) for 25 minutes. Rinse the fillets then place them on some paper towel.
Place the fillets in a dish, season, and drizzle with half the chili oil. Refrigerate.
Arrange the chorizo like scales on the back of the cod fillet.
Cook the fillets in a frying pan with a drizzle of oil then finish cooking in a preheated oven (160°C/320°F) for 2 to 3 minutes. Cook until the internal temperature is 44°C (111°F), then set the fillets aside.
Cook the spinach leaves in a frying pan with a pat of butter, season as needed.
The sauce: Sweat the chopped onions and diced tomatoes with a spoonful of chili oil. Season with salt, pepper, Espelette pepper, and sugar. Let the sauce cook for 25 minutes.
Carefully sear the cherry tomatoes in a frying pan with a drizzle of olive oil, making sure they do not break.
Deglaze with sherry vinegar.
Finish cooking the fish by adding it to the tomato sauce.
Arrange the spinach on warm plates, place the cod on top, surround with cherry tomatoes, and drizzle with some sauce.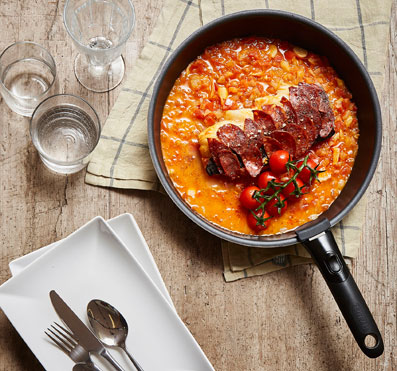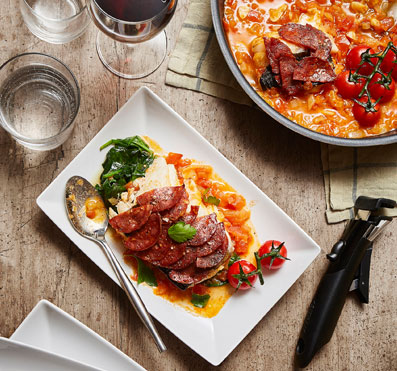 Ingredients
4 cod fillets of around 160 g (5.6 oz) each
200 g (7 oz) spinach leaves
2 beefsteak tomatoes, peeled and diced
1 onion, chopped
4 small bunches of cherry tomatoes
120 g (4.2 oz) hot chorizo
1 tsp mild chili powder
5 cl (1/5 cup) olive oil
4 tbsp sherry vinegar
Salt, pepper
Utensil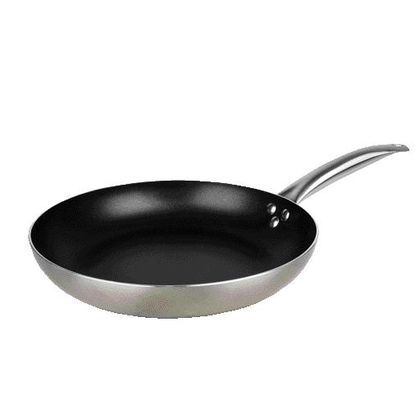 The benefits of cooking with a frying pan
With its round and shallow shape, this versatile utensil allows you to cook to your taste a variety of foods, from steaks to whole fish, burgers, meatballs, and all sorts of sauteed vegetables, pasta or cereals.
Other recipes for you
Here are some recipes you might also like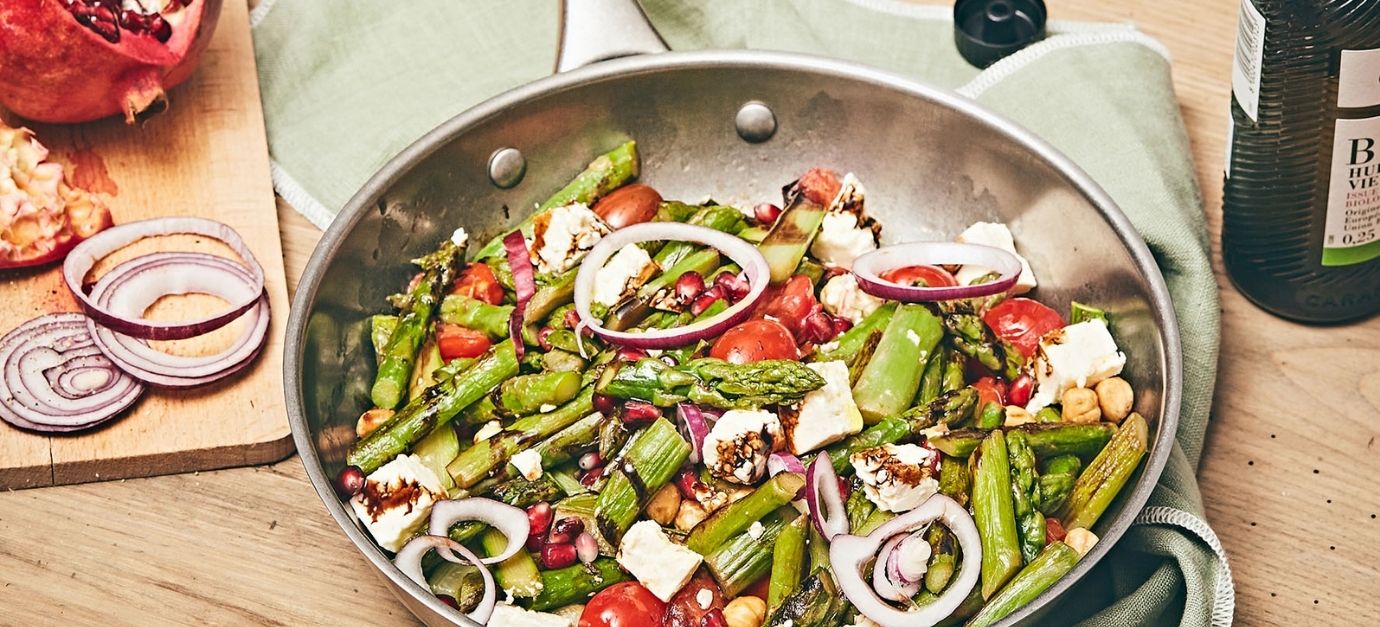 Sautéed asparagus salad with hazelnuts, feta cheese, pomegranate,…
A gourmet salad with a crunch!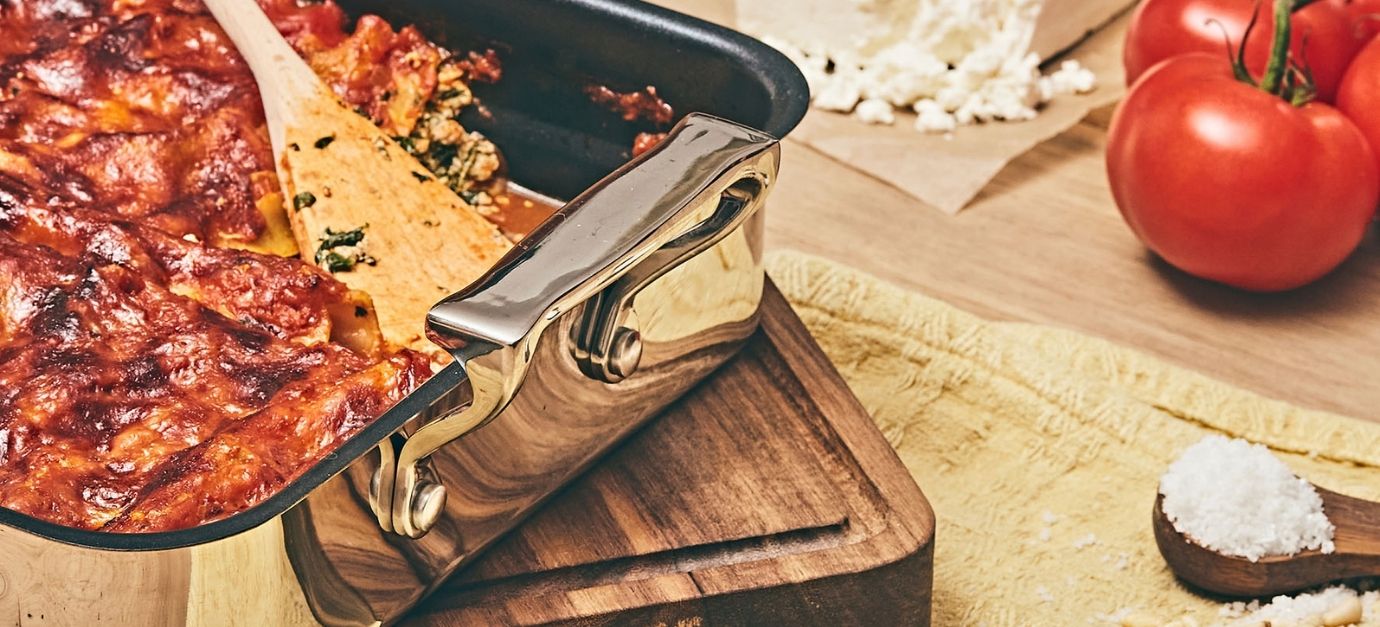 Cannelloni au gratin with veal, spinach, feta, and ricotta
The perfect recipe for cozy evenings!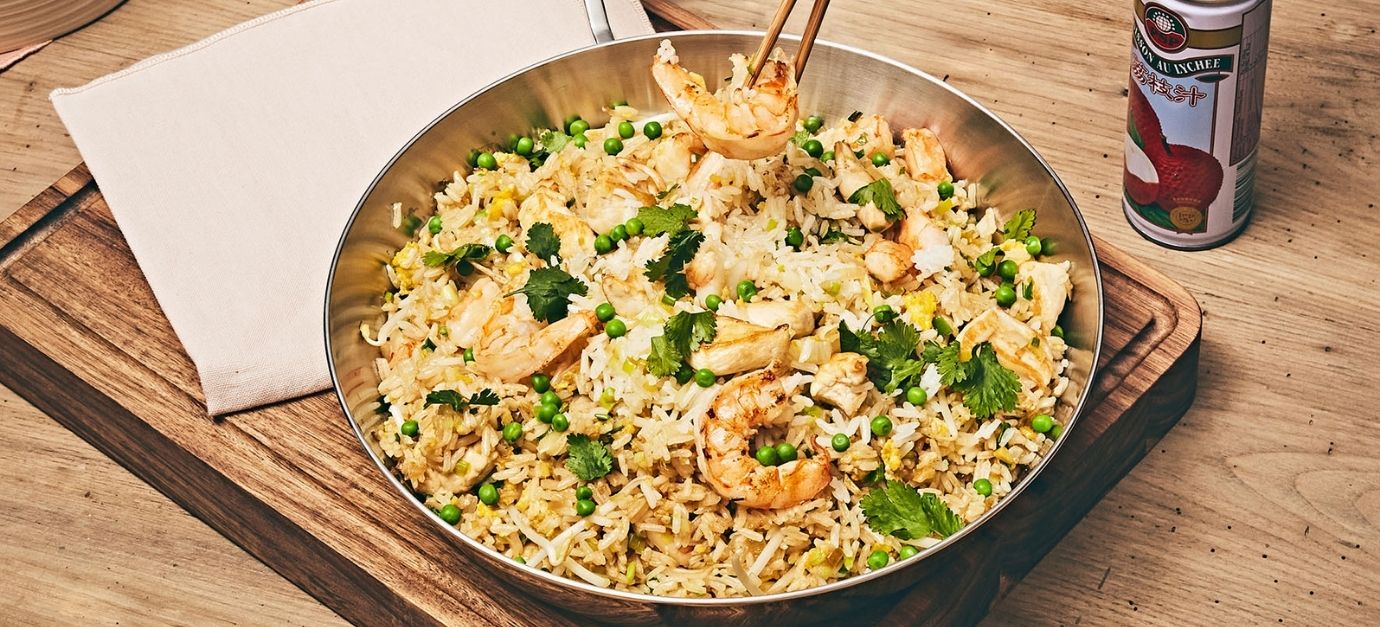 Cantonese rice with shrimp and chicken
A delicious recipe to share!