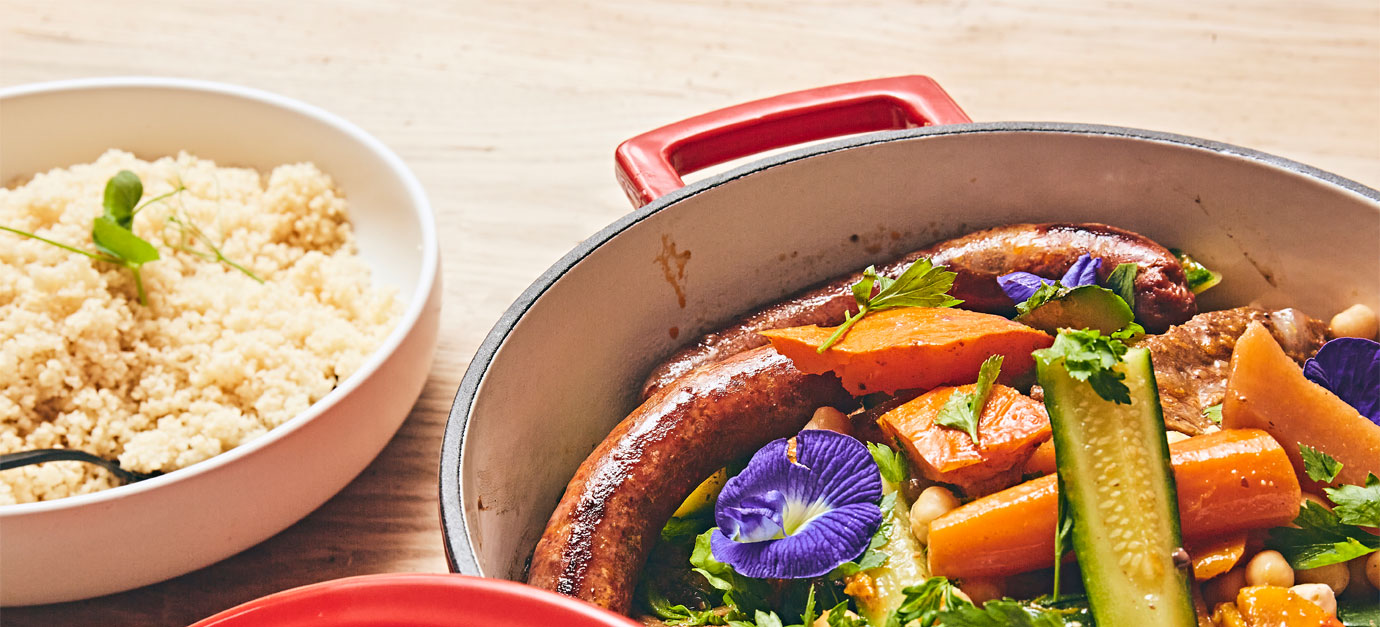 Couscous
Savory recipes
Spring
Summer
Fall
Winter
1+ hour
Medium difficulty
Cocotte en fonte
Method
If you use dried chickpeas, soak them in water the day before
In your Dutch oven, heat the olive oil and brown the meat first and then the chicken. Remove the fat then put the meat and chicken pieces back in the Dutch oven. Season with salt and pepper.
Add the ground coriander, cumin, and couscous spice mix and roast for one minute
Peel and chop an onion and the garlic, peel and cut the carrots, turnips, parsnips, celery, and tomatoes into small pieces, then add them to the Dutch oven with the bouquet garni and the onion studded with cloves
Add enough water to cover the vegetables and season as needed. Close the lid and cook for around 30 minutes
Cook the chickpeas in salted boiling water for around 35 minutes
Add the zucchini and the chickpeas to the Dutch oven and cook for 10 minutes
Remove from the heat and keep the meat and vegetables warm in the broth
While cooking, mix the semolina and raisins in a large bowl. Add equal amount of boiling water as semolina, 1 tbsp of olive oil, and some salt. Let swell for 10 minutes by placing a cloth over the bowl, then break up the semolina with a fork gradually adding the butter.
Presentation: Serve the semolina, meat, vegetables, and broth in separate dishes. You can serve a small bowl of harissa to mix with the broth (for those who love their couscous spicy), and a second small bowl with the fresh chopped herbs.
 
Pascale's tip:
Feel free to use more vegetables in addition to those in the recipe, including squash, celeriac, fennel, artichoke, etc. You can also serve the couscous with merguez sausage (cooked separately on a grill).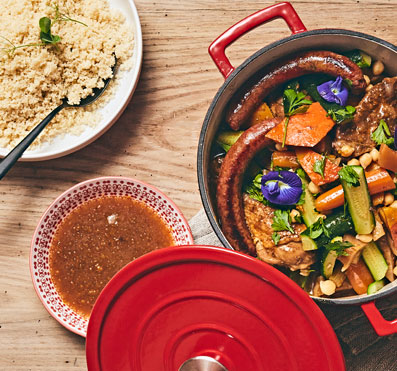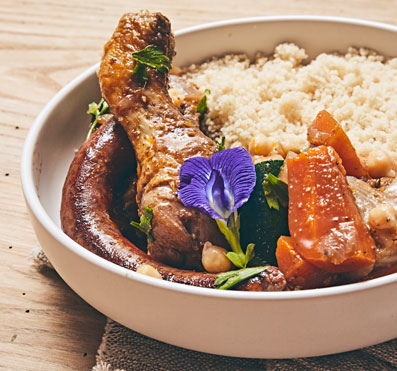 Ingredients
400 g (14 oz) lamb shoulder cut into large cubes
400 g (14 oz) lamb neck cut into slices
4 chicken legs
4 merguez sausages (optional)
200 g (7 oz) dried or canned chickpeas
100 g (3.5 oz) raisins
3 zucchini cut into small pieces
3 turnips cut into small pieces
2 parsnips
3 celery stalks
3 tomatoes
4 cloves of garlic
1 onion
1 onion studded with 3 cloves
1 bunch of fresh mint
1 bunch of fresh cilantro
1 bouquet garni (thyme, bay leaf, parsley stems)
30 g (2 tbsp) butter
300 g (10.6 oz) precooked semolina
2 tbsp tomato paste
1 tbsp cumin powder
1 tbsp "Ras El Hanout"
3 tbsp olive oil
Harissa
Salt, pepper
Utensil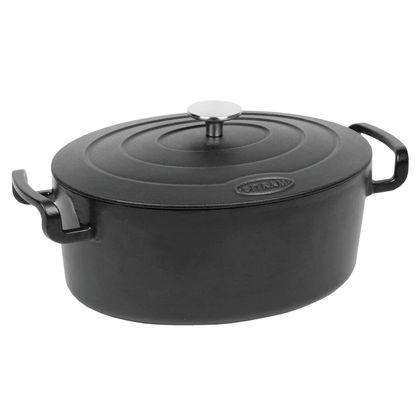 Why cook in a Dutch Oven?
Dutch ovens are ideal for slow cooked, simmered dishes. You can use the in the oven as well as the stovetop, and they will keep your meal warm when served at table.
Other recipes for you
Here are some recipes you might also like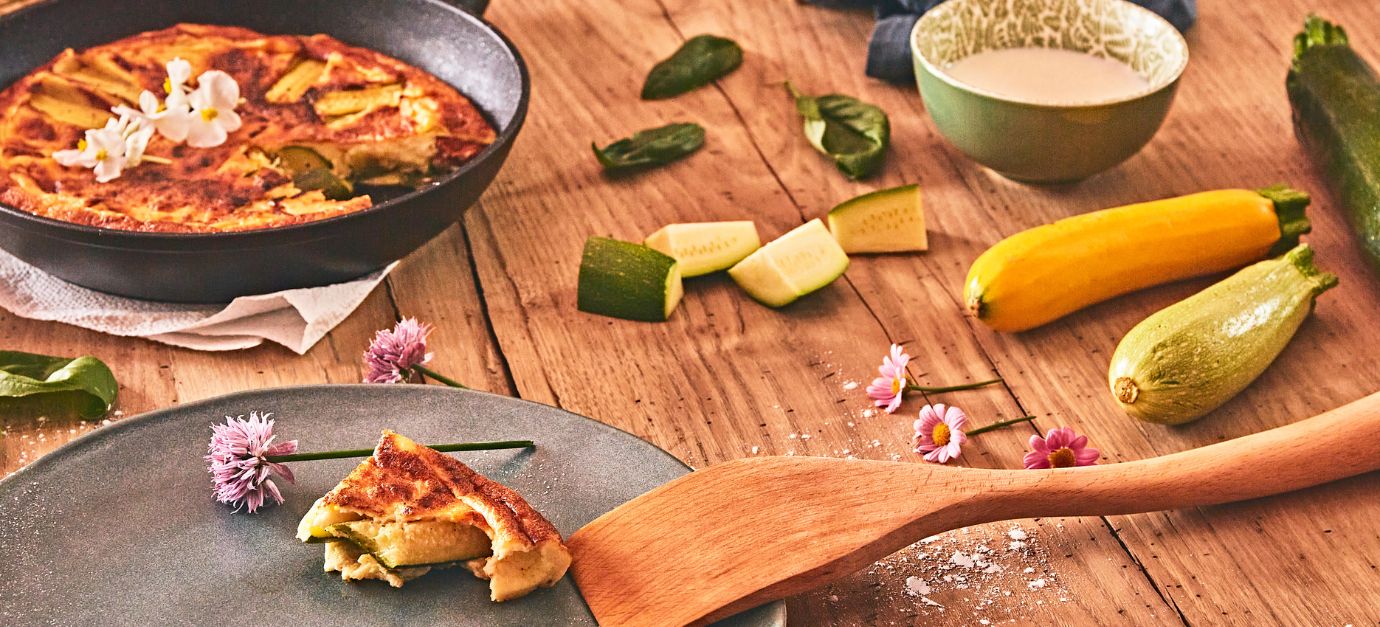 Pan-fried zucchini clafoutis
Easy, no-bake zucchini clafoutis.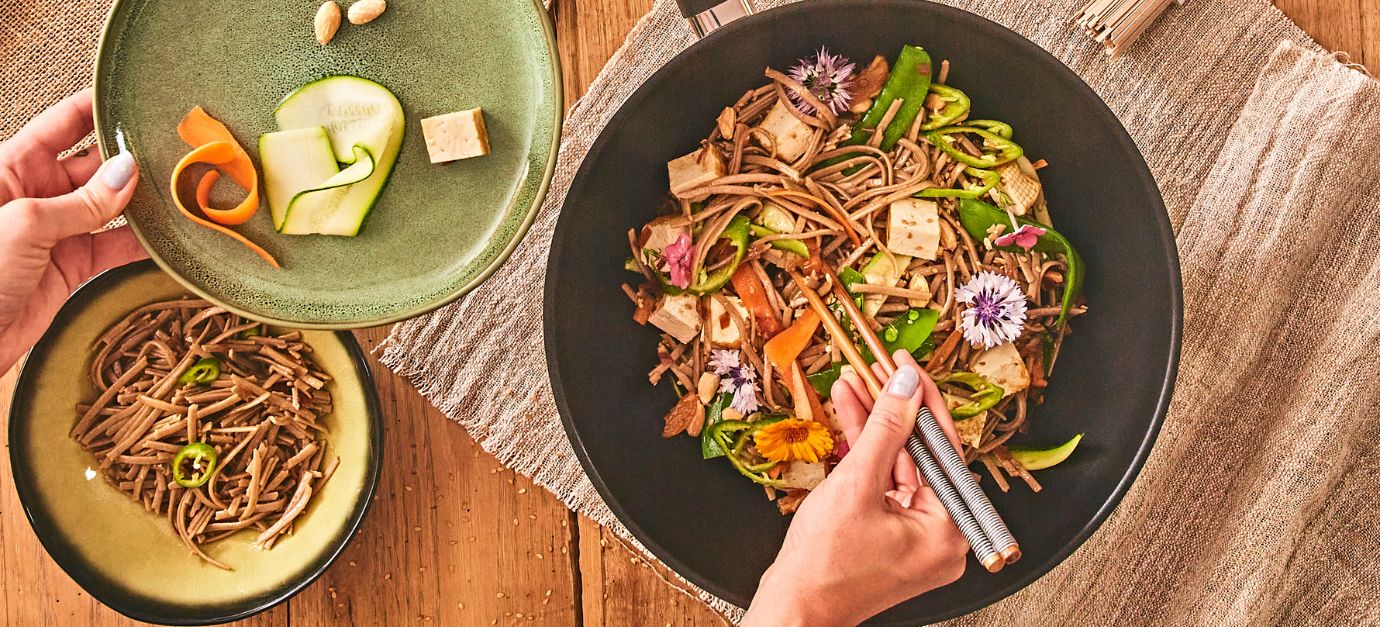 Soba noodle salad with grilled tofu
A colorful vegetarian salad with soba noodles, seasonal vegetable…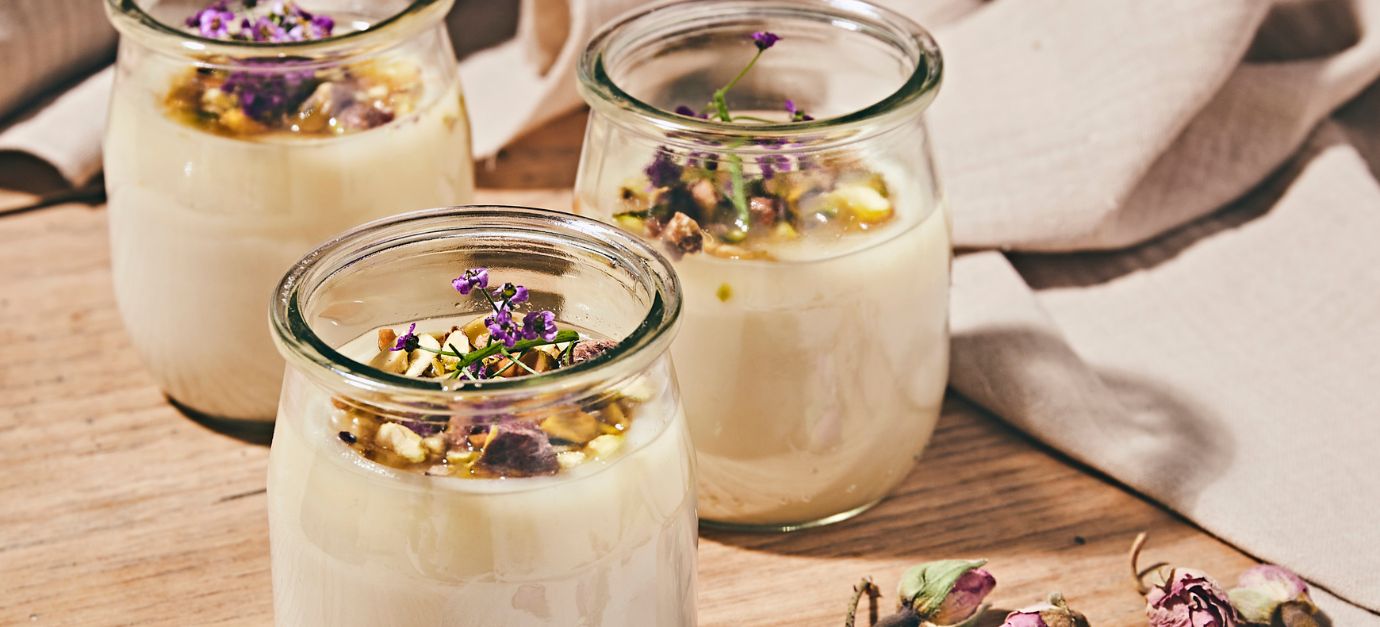 Delicious Lebanese flan with hints of pistachio and orange blosso…