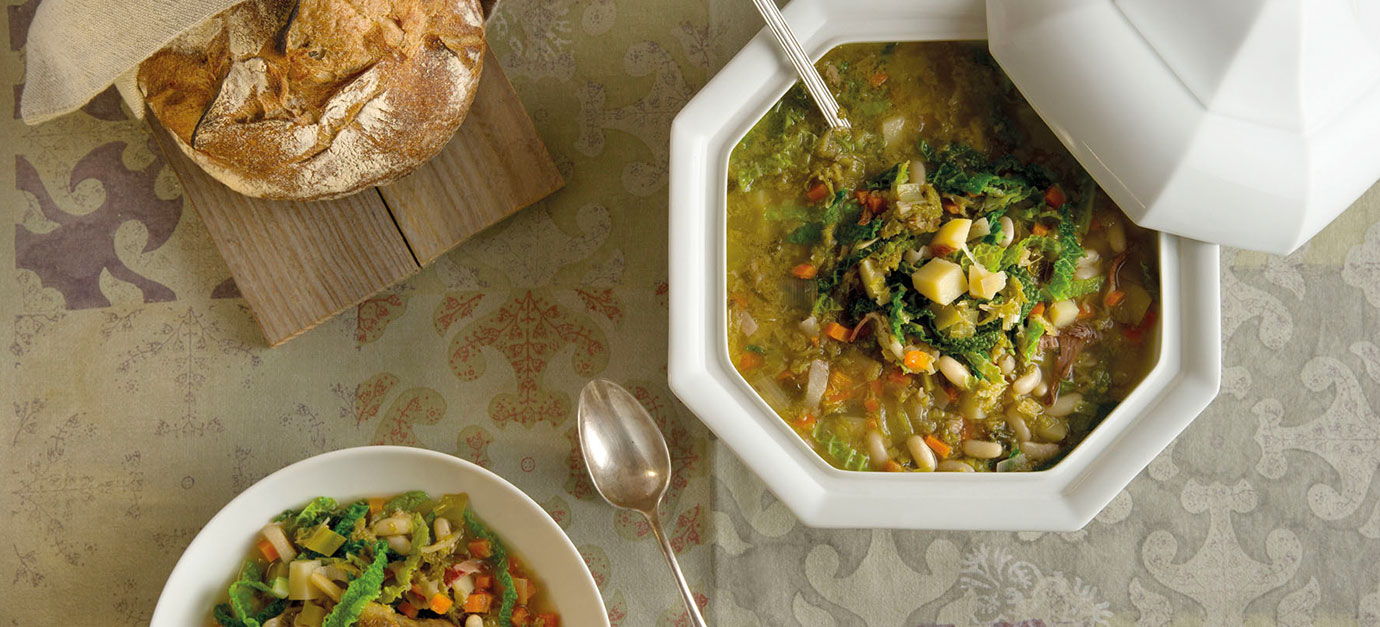 Garbure
Savory recipes
Spring
Summer
Fall
Winter
1+ hour
Medium difficulty
Autocuiseur
Cooking time
45 + 15 minutes
Method
Soak the beans overnight in a large bowl of cold water.
Desalt the meat (if unsure, ask your butcher) in cold water for 2 to 6 hours or immerse the belly in cold unsalted water, bring to a boil, and blanch. Drain then cut the meat into large cubes.
Peel and cut the vegetables (carrots, onions, leeks, turnips, celery, and potatoes) into small cubes of around 1 cm (0.4 inch) each.
Peel the garlic cloves and leave them whole
Remove the leaves from the cabbage, rinse, and cut out the central ribs with the tip of a knife. Chop the cabbage finely, blanch in a pot of boiling water for 2 minutes, then rinse under cold water.
Heat some oil or duck fat in the pressure cooker, brown the vegetables (except the potatoes and the cabbage), add the meat, and let cook for 10 minutes.
Add the beans and a bouquet garni and drench with the chicken stock. Add the garlic, clove and peppercorns. Close the lid with the regulator and heat the cooker. When the steam starts to escape, lower the heat and cook for 45 minutes.
Remove the pressure cooker from the heat. Depressurize before opening. Add the cabbage and potatoes. Close the lid and cook for 15 minutes.
Brown the confit legs in the oven (if possible) at 180°C (350°F).
Remove the pressure cooker from the heat. Depressurize before opening. Arrange the garbure in a pretty tureen and top with the confit legs.
Serve at once.
Ingredients
4 duck confit legs or 4 thighs cut in half
1 heel of Bayonne ham
1 piece of semi-salted pork belly or salted pork shoulder
1 semi-salted pork shank
1 head of savoy cabbage
500 g (17.6 oz) potatoes (approx. 4)
250 g (8.8 oz) dried white beans
250 g (8.8 oz) carrots
250 g (8.8 oz) leeks
150 g (5.3 oz) turnips
1/2 celery stick
250 g (8.8 oz) onions
5 garlic cloves
1 clove
Bouquet garni
Peppercorns
2 L chicken stock
Salt, pepper
Utensil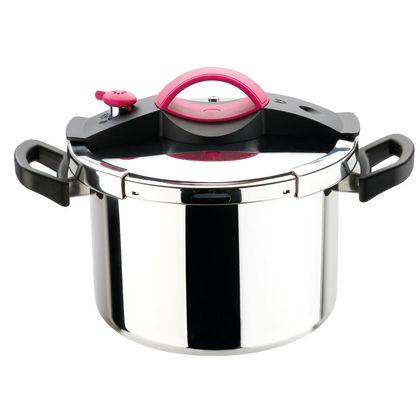 Why use a pressure cooker?
It's the perfect utensil for the busy and efficient cook. Thanks to its amazing speed you will save precious time for other activities...
Other recipes for you
Here are some recipes you might also like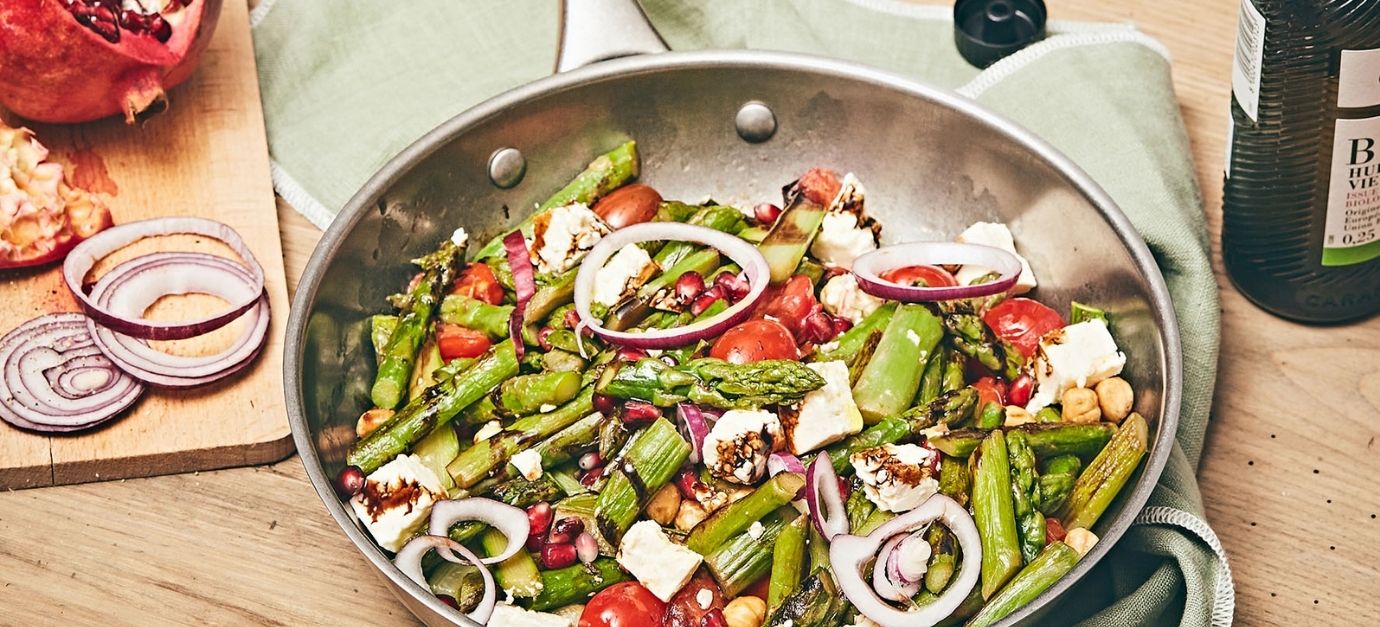 Sautéed asparagus salad with hazelnuts, feta cheese, pomegranate,…
A gourmet salad with a crunch!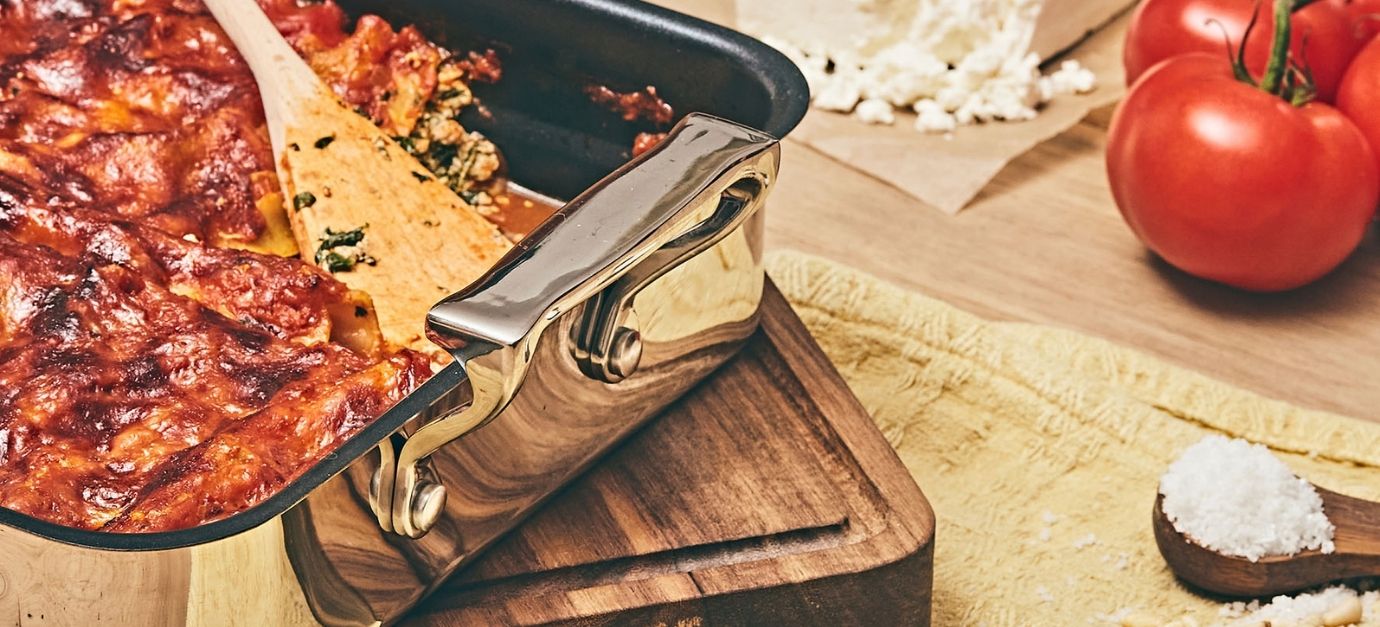 Cannelloni au gratin with veal, spinach, feta, and ricotta
The perfect recipe for cozy evenings!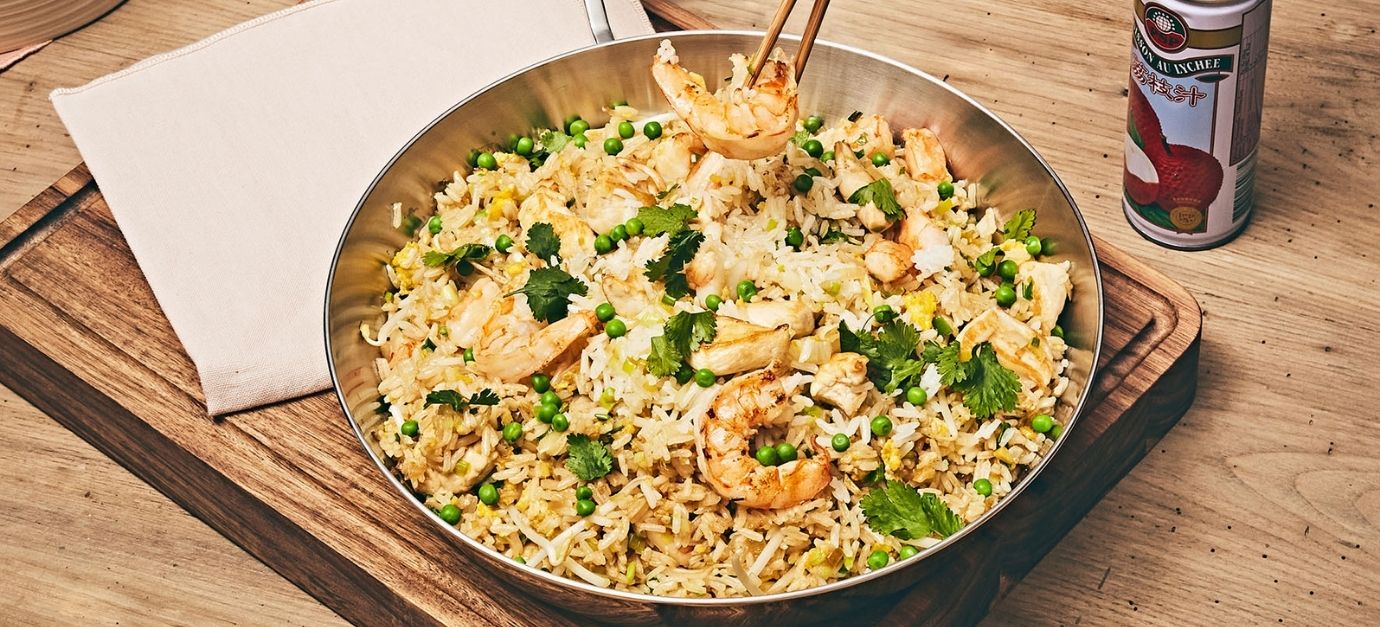 Cantonese rice with shrimp and chicken
A delicious recipe to share!